Help us find them alive: Mother of Boko Haram-kidnapped girl appeals to US via RT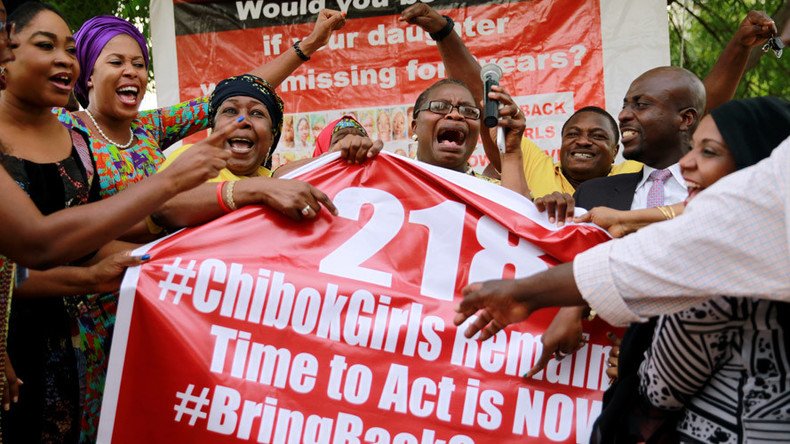 A mother of one of 219 Nigerian girls still in Boko Haram captivity is begging the US to help find her daughter and other schoolgirls abducted in 2014. The woman spoke exclusively to RT as she traveled to Washington, DC seeking support.
"What I want the United States to do is to help us to assist the Nigerian army with the global things that would help them to locate the girls and save them alive," the woman said on her daughter's birthday.
Her face has been obscured and her name changed to "Mary" for safety reasons.
Sitting in the RT office in Washington, DC, 26 months after losing her child to Boko Haram, Mary recalled the night of April 14, 2014, when insurgents raided Chibok school dormitories and kidnapped 276 girls.
More than 50 managed to escape within hours by jumping off the Boko Haram trucks into which the terrorists loaded them.
"It was terrible," Mary said. "We have been crying days and nights, seeking help from heaven. Seeking help from the Nigerian army. Unfortunately, 26 months now since the abduction, only last month they got one of the girls – Amina Ali Nkeki."
Nineteen-year-old Nkeki was wandering in the Sambisa Forest with her 4-month-old baby she had birthed while in captivity, when she was discovered by an army-backed vigilante group on May 19. After her escape, she was allegedly recognized by a Boko Haram fighter, now in the Nigerian military's custody, who claimed to be her husband.
The story of Nkeki's successful escape gives heart to Mary.
"We have hope. She said they are alive, they only lost six of them, but all the rest are alive," she told RT America's Alex Mihailovich.
However, many parents, including Nkeki's father, could not bear the pain of losing a child.
"We are dying," Mary said. "We lost 15-20 parents. Some killed by Boko Haram after the abduction, some died due to a heart attack, blood pressure or diseases."
More than two years after Boko Haram's attack, the Nigerian government still can't locate more than 200 schoolgirls abducted by insurgents. It is believed that they could be hidden in underground bunkers in the huge Sambisa forest, not far from the border with Cameroon.
Mary has high hopes that with the help of the US and the international community, the Nigerian army will be able to find her daughter and the missing girls.
"We need your prayers, your prayers are very important," Mary said to RT viewers. "We need prayers and the help of the international world. The Lord Almighty is working on it, and he will keep on working on it until our girls are freed and reunited with their parents."
You can share this story on social media: