Germany says 'unthinkable' that local Turks be allowed to vote in Ankara's death penalty referendum
Published time: 5 May, 2017 18:18
Edited time: 5 May, 2017 18:39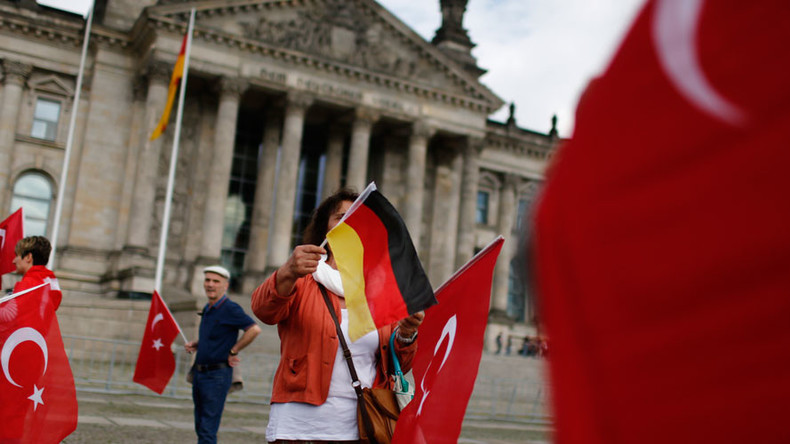 If Ankara decides to hold a referendum on the re-introduction of the death penalty on German territory, Berlin would ban such a move, a spokesman for the German government has said, adding that such a plebiscite would contradict the country's constitution.
"It is politically unthinkable that we would agree to hold such a vote in Germany on a matter that clearly contradicts our constitution and the European values," Steffen Seibert told journalists, noting that if Turkish President Recep Erdogan would indeed hold such a referendum, Germany would ban it on its territory.
"If another country wants to hold an election or vote in its embassies or consulates here in Germany, it is a subject to approval," the government spokesman said, as cited by the German DPA news agency.
He said that any country considering such a move should first file a corresponding request and "Germany is not obliged to comply with this request."
"It means that the federal government can also withdraw from its approval… and ban a referendum in Germany," he said, and that he "believes that [the German authorities] would use all legal means to forbid something like that."
He noted that the German government has so far received no such request from Turkey and the issue remains a "hypothetical one," on which he would not normally comment. Earlier, the leader of the German Social Democratic Party and a chancellor candidate in the forthcoming parliamentary elections, Martin Shultz, also said that a referendum on the reintroduction of the death penalty would be unthinkable in Germany.
"If the Turkish government would indeed hold a referendum about the reintroduction of the death penalty, it should be clear that Turkish citizens living in Germany would not be allowed to take part in such a vote," Shultz told the German Der Spiegel weekly.
German citizens cannot vote on an "instrument" that "contradicts our values and our constitution," he said on Friday.
Germany is home to some 1.4 million Turks who are eligible to vote in Turkish elections and referendums. About a half of them took part in the recent referendum on constitutional changes that significantly expanded the Turkish president's powers, according to DPA.
Meanwhile, Austrian authorities have also said they would not allow Ankara to hold their death penalty referendum on Austrian soil.
"In the case of a referendum on the death penalty in Turkey, Austria would ban it on its territory," the Austrian Foreign Minister Sebastian Kurz told the Austrian Kurier daily.
His words were echoed by the country's Chancellor Christian Kern, who said, "capital punishment is in complete contradiction to the core values and constitution of Austria as well as EU [norms]."
Some 100,000 Turks living in Austria are eligible to vote according to the Kurier publication. Capital punishment was abolished in Turkey in 2004 but Erdogan has repeatedly vowed to reinstate the practice following an attempted coup on July 15, 2016.
After claiming victory in the April referendum expanding his presidential powers, Erdogan said the death penalty issue could be next up for a plebiscite.
READ MORE: Vienna will veto EU membership talks with Turkey – Austrian FM
In March, he also said that he would approve the reinstatement of capital punishment "without any hesitation," while speaking at a rally ahead of the April referendum. At that time, he hinted that the death penalty could then be applied to the coup plotters who tried to overthrow the Turkish government on July 15, 2016.
The idea of reintroducing the death penalty in Turkey has been consistently and fiercely criticized by European politicians, who said it could become a formidable obstacle to Turkey's potential EU membership.
In March, European Commission chief, Jean-Claude Juncker, described a return to the death penalty a "red line" in Turkey's EU membership bid. "If the death penalty is reintroduced in Turkey, that would lead to the end of negotiations," he told the German Bild daily at that time.