'Without any hesitation': Erdogan vows to reinstate death penalty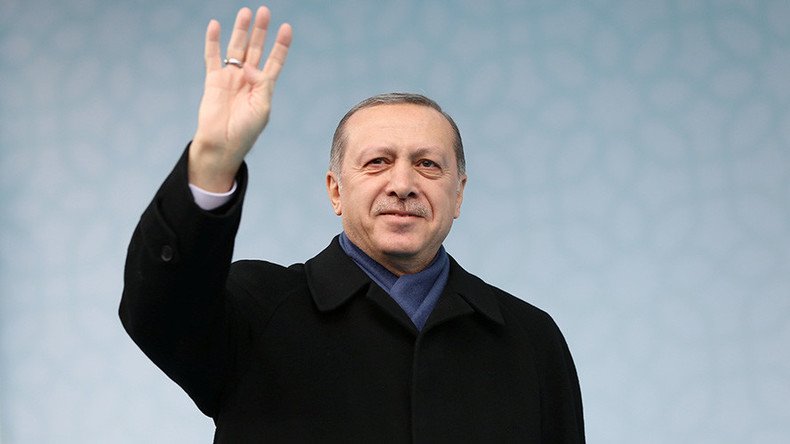 Turkish President Recep Tayyip Erdogan has said he would approve the reinstatement of capital punishment in Turkey "without any hesitation" as he drummed up support for the upcoming constitutional referendum.
"I believe, God willing, that after the April 16 vote, the parliament will do the necessary thing concerning your demands for capital punishment. As for me, I will approve it without any hesitation," he said at a Martyrs' Memorial Day rally, commemorating the Ottoman Empire's victory in the battle of Gallipoli in 1915.
Erdogan went on to imply that the death penalty could then be applied to the coup plotters, who tried to overthrow the Turkish government on July 15, 2016.
"Who opened fire on their brothers in arms that night? Who attacked their own people with tanks and artillery, bombed the parliament, the presidential complex, and headquarters of the Special Forces? They are all busted. Our people should be at ease. Those murderers and their supporters will get the penalty they deserve," he said during the rally.
He went on to praise the actions of the Turkish people during the coup attempt, noting, that "thanks to the support of our people, we were able to push back the attempt and get rid of the putschists," the Turkish state-run Anadolu news agency reports.
The president also rallied support for the proposed constitutional changes. He said the amendment would ensure that the Turkish political system would remain stable and secure, and be similar to the presidential systems of the "world's strongest nations."
"If we aim to be among the top 10 economies [by 2023], we need a system through which we can compete with these countries," he said, as cited by Anadolu.
He once again stated that Ankara will respond appropriately to the actions of the Netherlands other European countries which banned Turkish officials from attending rallies in support of the upcoming constitutional referendum.
"This [actions] have no place in international law," he said.
"If you'll continue like this, you'll have the necessary response from Turkey," the president warned the western nations.
Pro-referendum rallies, which were also canceled in Germany, Austria and Switzerland provoked an angry reaction in Turkey, who accused the EU of "selective democracy and xenophobia." Turkish officials charged that the actions of Germany and the Netherlands were comparable to Nazi policies.
While pointing to the need for further cooperation with Ankara, some European officials described the Turkish rhetoric as inappropriate.
You can share this story on social media: