Hong Kong police on high alert over threat of ISIS-inspired lone wolves – report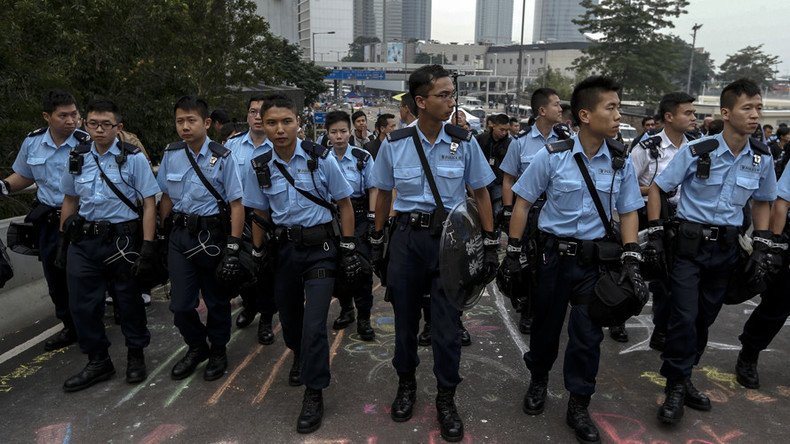 Hong Kong faces real dangers of lone wolf-style attacks, with some extremists possibly already having sneaked into the city and planning attacks, the South China Morning Post reports citing the security units.
Law enforcement stated on Wednesday, that the terrorists, inspired by Islamic State (IS, formerly ISIS/ISIL), could be already lurking among the 7 million people of the city, the newspaper reports. Despite there being no specific intelligence data on possible attacks, anti-terrorism police are on alert to "prevent lone wolf-style attacks." They are also to devote special attention to suspicious individuals and organizations listed by the UN Security Council.
However, the authorities did not raise the terrorism threat level. Security experts want to raise citizens' awareness on the global terrorism threat in order to have more "eyes and ears" across the city.
"It is impossible to have officers patrolling every corner, and people should be alerted to report any suspicious person to police. It causes no harm to the force but helps reduce the risk of lone wolves," a former police superintendent, Clement Lai Ka-chi, is cited as saying by the South China Morning Post (SCMP).
Police anticipate lone wolf attacks in the wake of the recent fatal incidents in Europe, when IS-linked terrorists used vehicles and knives to kill people. It is more difficult to intercept such attackers, as they "act without many plans and associations" and can easily get all the necessary tools for an attack anywhere, according to police officials.

Hong Kong is an autonomous territory of China and is considered one of the most technologically-advanced cities. However, the police are concerned about cyber threat from IS terrorists, as they often spread their extremist views via the internet and social media.
"Hong Kong is an advanced information city in which people can access promotional materials related to terrorism on the internet easily," Police Superintendent Leung Wing-sheung is quoted as saying by the SCMP.
Not only the city's technology, but also its transport capacity could be used by extremists to sneak into the city amid huge passenger flows. The city has two airports, with Hong Kong International Airport one of the world's busiest and a leading air passenger gateway and logistics hub in Asia. It also hosts many global institutions and representatives, which could also be targeted by terrorists, according to police officials.
While the terrorist threat in the Chinese autonomous region has been previously low, Beijing continues to be concerned with extremist moods and unrest in the northwestern region of Xinjiang, home to the predominantly-Muslim Uighur population.
READ MORE: China bans certain Islamic names in Muslim-dominated region of Xinjiang – report
The province was multiply hit by terrorist attacks, stabbings and explosions, for which Beijing blames Uighur separatists. In February, eight people were reported killed and 10 were injured in a stabbing attack in Pishan County. Back in 2015, knife-wielding extremists carried out an attack on a coalmine, which resulted in 50 deaths.
You can share this story on social media: