China bans certain Islamic names in Muslim-dominated region of Xinjiang – report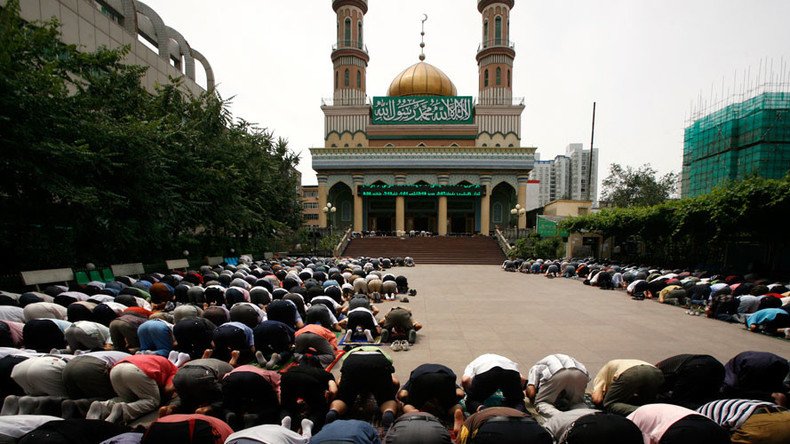 Chinese authorities have released a list of some common Muslim names used in Xinjiang region that are forbidden to use for newborns from now on, according to Radio Free Asia report.
Twenty-nine names, which are commonly used by the predominantly-Muslim Uighur population of the northwestern region, were featured in the document, entitled 'Naming Rules for Ethnic Minorities' and issued last Wednesday, according to Channel NewsAsia.
Names with strong religious meanings like Islam, Koran, Mecca, Imam, Saddam, Hajj, and Medina, as well as names that have "connotations of holy war [Jihad] or of splittism [sic – Xinjiang independence]" are included in the list, Radio Free Asia (RFA) reports, citing a police official.
However, more neutral names are still allowed.
If parents break the ruling, their children won't be registered in the government household system known as 'hukou', which provides access to social services, like healthcare and education, the official added speaking to RFA.

In March, a similar ruling banned "naming of children to exaggerate religious fervor," but without clarification of details.
The new decree comes after Chinese authorities banned "abnormal" beards and veils in public places, spreading "extremist ideas," and marrying in accordance with religious rites.
The imposed bans follow the government line to struggle against religious extremism. Illegal religious and separatist activities in the region with its growing Muslim population have consistently been major concerns for Beijing.
Uighurs traditionally practice Sunni Islam, which is considered a moderate form of the religion. However, some have started following practices more widespread in Saudi Arabia or Pakistan, such as women wearing a full face veil, according to Reuters.
The province has seen a great deal of violence, as Xinjiang was hit by terrorist attacks, stabbings and explosions, for which Beijing blames Uighur separatists. Eight people were killed and 10 were injured in one of the recent knife attacks in Pishan County in February. Back in 2015, knife-wielding extremists carried out an attack on a coalmine, which resulted in 50 deaths.
The Chinese authorities are concerned with the separatist sentiments in the region. Different organizations, such as the East Turkestan Islamic Movement and East Turkestan Liberation Organization advocate independence for East Turkestan, which is part of the Xinjiang region.
The East Turkestan Islamic Movement, also known as the Turkistan Islamic Party, is an extremist group that has committed more than 200 acts of terrorism and is listed as a terrorist group by many countries, including China, the US and the EU states, among others.
You can share this story on social media: