'Begging for water': Secret cell behind bookshelf exposed at Philippines police station (PHOTOS)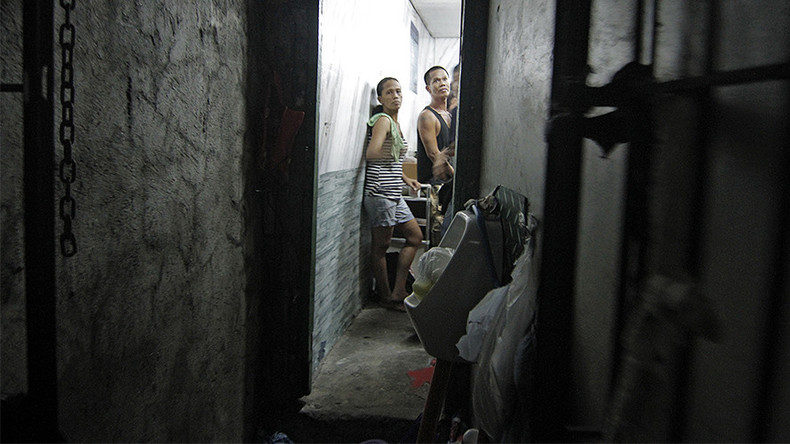 A cell with detainees hidden behind a bookshelf has been exposed in a police station in the Philippines, rights activists and media said, adding that people were reportedly begging for water and said they had been forced to urinate in plastic bags while held without any charges.
The cell containing 12 men and a women was initially exposed by the Philippines' official Commission on Human Rights (CHR) during its unannounced visit to Police Station 1 in the Tondo district in the capital, Manila, local news website Rappler reported, citing the CHR.
When they were discovered by CHR activists and journalists, the detainees cried "here we are, here we are," AFP reported, adding that some of them begged for water and pleaded with rights workers not to abandon them.
When the CHR attempted to free the detainees, the police reportedly objected, saying: "We arrested them. You can't take them." Station Commander Superintendent Robert Domingo said the detainees were jailed on drug offenses and their documents were still being processed.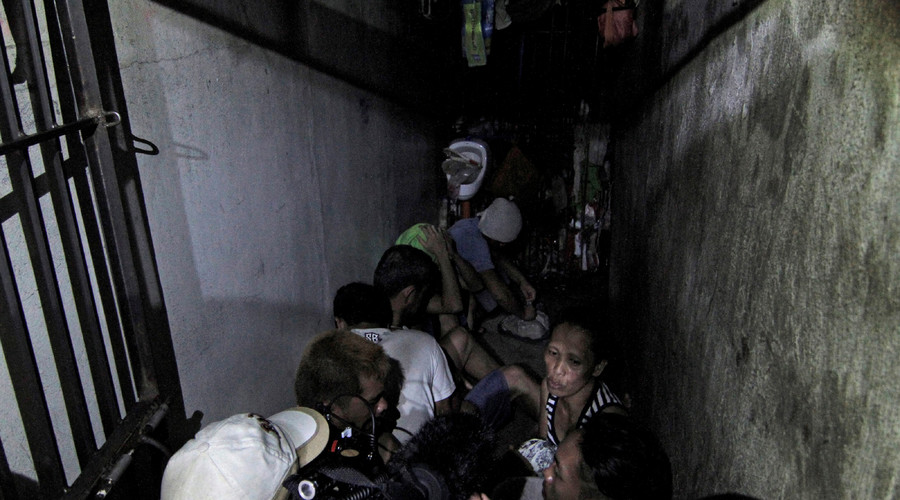 Domingo claimed that the people had been arrested on April 26, although the detainees who spoke to the CHR said they had spent much longer in the hidden cell.
"The allegations of these arrested...it's their word against ours. So we will fight that in the end," Domingo said, as cited by Rappler.
One of the detainees, identified as 44-year-old Grace de Guzman, said she and her husband had been detained for week. According to the woman, they were arrested for no reason. Another detainee showed bruises, claiming that he had been beaten with a wooden object.
Some detainees said that police were demanding money for their release. The amounts ranged between P30,000 ($600) and P100,000 ($2,000).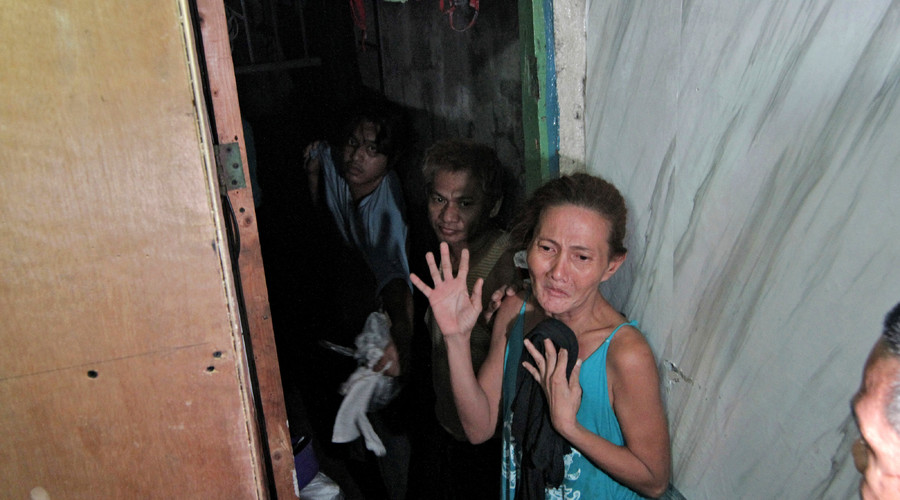 "Lock-up cell does not go in line with the international standard [of jails]. Detainees claim the lock-up cell does not have any source of light and ventilation. The two urinals inside do not function, forcing many of them to urinate and [do] bowel movement in plastic bags," said the CHR director of NCR (National Capital Region), Gilbert Boisner.
READ MORE: 'Brutal' war on drugs to go on, Intl Criminal Court won't stop me – Duterte
Boisner later told AFP that the detainees "were picked up on the pretext of drugs but they [authorities] had not filed any charges against them."
The authorities suspended Domingo from his post on Friday, pending an investigation, according to national police spokesman Senior Superintendent Dionardo Carlos.
READ MORE: Duterte govt denies report alleging most drug killings done by police
"He [Domingo] will undergo an administrative case. If evidence warrants, a criminal case will also be filed against him and the persons involved," Carlos told AFP.
The hidden cell was criticized by Human Rights Watch, which called the jail "an unlawful secret detention facility."
"The discovery of the secret jail is just the latest sign of how police are exploiting [President Rodrigo] Duterte's abusive anti-drug campaign for personal gain," Phelim Kine, deputy director for the Asia Division of HRW, said.
The incident comes amid the 'war on drugs' waged since Duterte came to power in June 2016. He was elected partially on a promise to extend countrywide the brutal tactics he had used against drug crime while serving as mayor of Davao for 22 years.
The controversial Philippines leader was voted the most influential person of 2017 by readers of Time magazine in an online poll.