Pegida activists stage protest over 'diversity' monument in Dresden (VIDEO)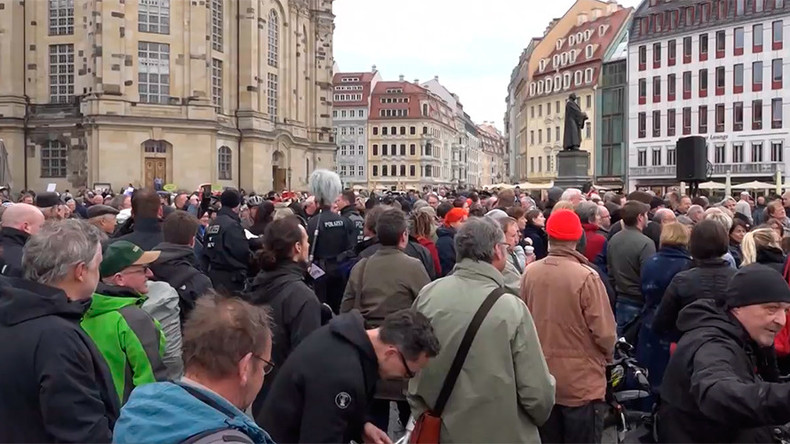 A sculpture meant to symbolize diversity and complexity in the modern world, has caused a furor among activists from the Pegida movement in Dresden, eastern Germany. Some Pegida activists even staged a Muslim-style "prayer" at the square.
The 'Monument for a Permanent New Beginning' from a pair of Hamburg artists, Heike Mutter and Ulrich Genth, was designed to blend various elements of Dresden's works of art from different ages to celebrate "diversity and complexity," Germany's DPA news agency reported.
Between 300 to 400 people, both supporters and critics of the artwork, gathered at the city's landmark Neumarkt Square as the monument was unveiled on Tuesday, Sächsische Zeitung reported.
Right-wing activists and Pegida (Patriotic Europeans Against the Islamization of the West) supporters labelled it "trash art."
Two protesters, who, according to Ruptly news agency were from the Pegida camp, staged a Muslim-style "prayer" to express their apparent dissatisfaction with the art object. Some were shouting "Allahu akbar" (God is Great in Arabic) in the process as seen in the Ruptly footage.
Counter protesters contested this view, however, with some holding banners reading: "If it was according to PEGIDA, we would be in the Stone Age."
Read more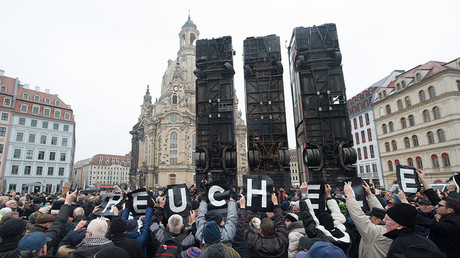 The mayor of Dresden, Annekathrin Klepsch, had trouble during her welcoming speech amid a barrage of shouts and whistles from the angry crowd, which was chanting "Go away! Go away!"
The 7.50-meter (25ft) work of art is set to stand on the city's central square for two years.
According to one of its creators, the monument features objects from the "collective memory of the city," Dresdner Neueste Nachrichten reported.
In February this year, Dresden saw more controversy over a monument put on display in the very same spot.
The installation was formed from three upended buses set together and dedicated to the victims of the battle for Aleppo in Syria.
Designed by Syrian-born artist Manaf Halbouni Halbouni, the creation intended to draw parallels between the ongoing war in Syria and the bombing of Dresden in 1945 by Britain and the US. While the artwork drew support, right-wing demonstrators claimed the city did not need the memorial, calling on the authorities to immediately remove it.
Dresden is considered a strong base for Pegida, which has regularly staged marches in the city, where its activists advocated against the refugee policy of the federal and local governments.