Kim Dotcom asks New Zealand police to grill FBI chief over 'data theft'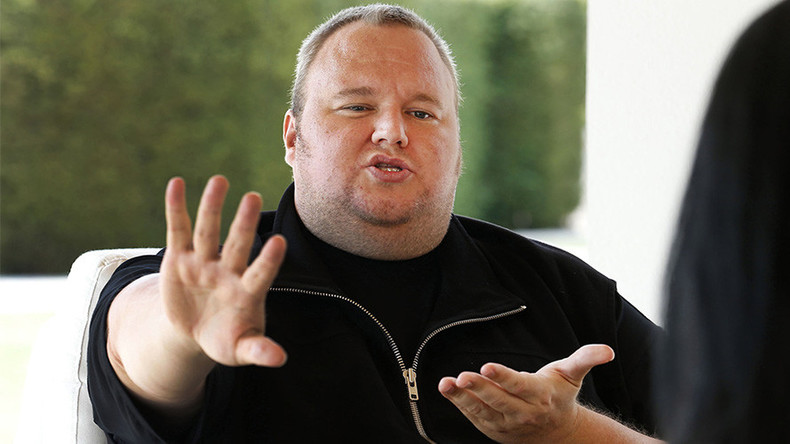 Internet entrepreneur Kim Dotcom, wanted by the US over the now-defunct file-sharing website Megaupload, has formally reported FBI Director James Comey to the New Zealand police, requesting that they urgently question him over the "theft of data" by the agency.
Dotcom, 43, has filed a complaint regarding "the unlawful removal from New Zealand of clones of electronic devices" belonging to him during a 2012 police raid in Auckland that shut down Megaupload.
Dotcom is struggling to avoid extradition to the US for charges relating to racketeering, copyright infringement, money laundering and fraud.
"The FBI broke the law. That's what NZ courts found. It's the job of NZ Police to uphold the law. And we're all equal before the law, right?" he tweeted on Tuesday.
"FBI Director Comey who's currently in New Zealand should be compelled by NZ Police to return all of the data the FBI stole from me," Dotcom added in another tweet, using the hashtag 'pirates.'
Comey was believed to be attending a security conference of the so-called Five Eyes intelligence-sharing network – the US, UK, Canada, Australia, and New Zealand – being held in the South Island this week, AFP reported.
New Zealand Police confirmed to the news agency they had received Dotcom's "correspondence," saying it was "being assessed."
Dotcom said on Wednesday, however, that the FBI director had apparently left for Hawaii.
"NZ Gov made sure he wasn't bothered with Police questions about FBI theft of my data," he wrote on Twitter with more than a hint of sarcasm.
There have been no official reports on where Comey is at present.
German-born Dotcom has resided in New Zealand since 2010. The US has claimed millions of dollars' worth of his assets, which were seized through court orders in New Zealand and Hong Kong back in 2012.
According to the FBI, Megaupload netted over $175 million in criminal proceeds, "causing more than half a billion dollars in harm to copyright owners."
A New Zealand court ruled in February that Dotcom was eligible to be extradited to the US on fraud charges. The internet mogul, who denies any wrongdoing, faces 20 years in jail if convicted.
Former British intelligence officer Annie Machon told RT in February that the case against Dotcom had been illegal from start to finish.
"The FBI SWAT team that was sent to raid his house in 2012 – this has been ruled as an illegal infringement of New Zealand's national sovereignty. Judge Gilbert said the New Zealand intelligence agencies were illegally spying on him. They've used civil asset forfeiture laws in America to seize his assets.
"So, every which way this has been an illegal operation conducted by the FBI, on the say-so of the American media corporations," Machon said.
Earlier this month, Dotcom submitted a case to the US Supreme Court for relief against the seizure of his assets, arguing that they arose from "unproven allegations of the most novel, dubious United States crimes." Dotcom is listed in the case as a defendant alongside his wife Mona and several members of Megaupload staff also wanted in the US.
Dotcom argues the current procedure allows the US government to seize assets "without affording a foreign defendant any opportunity to challenge in court whether the foreign assets are traceable to criminal conduct, whether the Government's allegations are sufficient to establish the charged crime, or even whether the charged 'crime' is a crime at all."