Megadowner: 'Kim Dotcom may be extradited to US amid intellectual property-rights war'
Published time: 20 Feb, 2017 15:36
Edited time: 20 Feb, 2017 16:44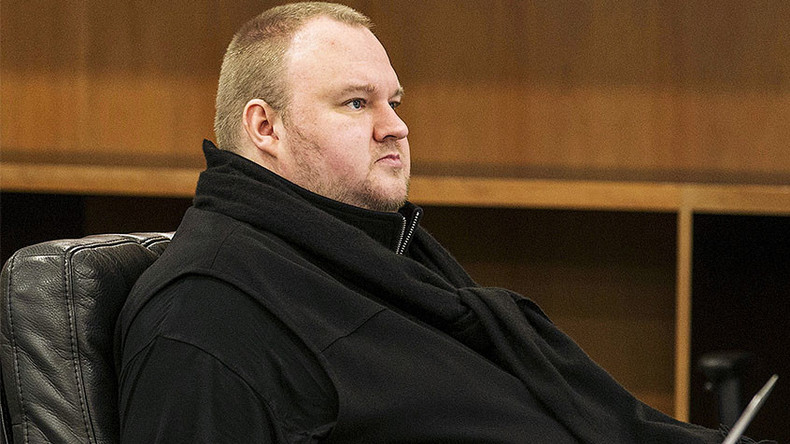 In every which way the case against Kim Dotcom has been illegal - witnessed by an FBI SWAT raid on his home in 2012 - and pushed ahead on the say-so of US media corporations, says former British intelligence officer Annie Machon.
A New Zealand court has upheld a 2015 ruling against the German-Finnish internet entrepreneur Kim Dotcom who founded the now defunct file-hosting service Megaupload. He is now eligible for extradition to the US along with three associates.
The judge decided Dotcom and three co-accused cannot be extradited on copyright infringement charges. However, there were "general criminal law fraud provisions" which make the extradition possible.
In the US, Dotcom faces charges of copyright infringement, money laundering and wire fraud. It is claimed he cost film studios and record companies in America more than $500 million on copyright violations.
RT: Do you think he'll actually be extradited now?
Annie Machon: I think he'll put up a very robust fight. He knew right from the start that he could not be extradited under copyright laws. This is a very nasty and very protracted battle, the latest battle in the intellectual property right war that is being waged by American corporations globally over the last few years. And yet the way they have gone about it has been illegal in so many ways.
So, for example, the FBI SWAT team that was sent to raid his house in 2012 – this has been ruled as an illegal infringement of New Zealand's national sovereignty. Judge Gilbert said the New Zealand intelligence agencies were illegally spying on him. They've used civil asset forfeiture laws in America to seize his assets. So, every which way this has been an illegal operation conducted by the FBI, on the say-so of the American media corporations.
Judgement: I'm no longer getting extradited for Copyright. We won on that. I'm now getting extradited for a law that doesn't even apply.

— Kim Dotcom (@KimDotcom) 20 февраля 2017 г.
RT: The other side of it is the record and film companies that are saying that they got to be the creative and that cost money…Are we supposed to see the argument there?
AM: We have a situation here where he set up a legitimate business. It is like sort of encrypted drop box where people could share legitimate information – family photographs, businesses could cloud share their documents, etc. And the Americans took down megaupload.com claiming global hegemony over any top-tier American domain names .com,.net,.info,.org., which is a terrible legal precedent. So, all these legitimate users of megaupload.com also lost their information, documents, and photographs. So, it is a dangerous precedent for the American state to set, to claim this global legal hegemony and it caused harm to many people.
I actually think that the broader context here is to appreciate the fact that the statement or the case against Kim Dotcom … has been based on the idea that he violated copyright. But the interesting thing about it is that the copyright argument failed in the court. So the actual court decision featuring Justice Gilbert said the copyright argument was nonsense, that in effect Kim Dotcom and his co-accused were correct. So, what they did was actually deal with the broader issue of other charges connected – racketeering, fraud, and conspiracy more specifically.- Binoy Kampmark, senior lecturer at the RMIT University, Melbourne.
RT: Do you think US authorities are afraid of Dotcom's encrypting after all the hacker scandals they're facing right now?
AM: Very much so. We know from Snowden that our intelligence agencies are spying on what we communicate over the internet. The fundamental problem with the out-dated business model which is the intellectual property right wars is that they use these big media companies and the argument of copyright to try and snoop on what information is going across the internet. Is it copyrighted – therefore we need to be able to see what is being handed across. They have actually gone up to including the idea of deep packet inspection of what is being sent over the internet purely in the name of copyright. This is a sort of ghastly pincer movement between the state spies spying on what we are saying and the copyright industry finding excuses to snoop on what we are sending. And it is not just records or films. It is also medical patents, food patents, academic research, everything.
The statements, views and opinions expressed in this column are solely those of the author and do not necessarily represent those of RT.