PACE President under fire for Syria trip, meeting Assad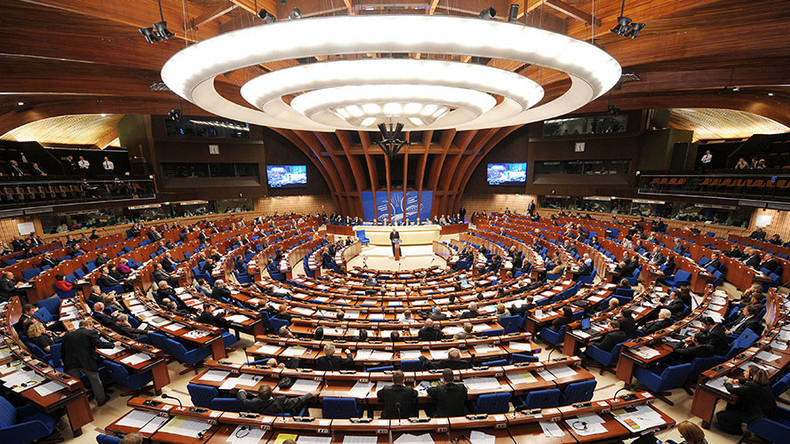 The president of the Parliamentary Assembly of the Council of Europe (PACE), has appeared before a hearing after some members demanded a vote of no confidence following his unauthorized trip to Syria and meeting with President Bashar Assad.
The hearing took place on Tuesday after Pedro Agramunt apologized for the trip during the first day of PACE's spring session in Strasbourg on Monday.
"President Pedro Agramunt, in view of the request of a significant number of members, has agreed to participate in a hearing on his recent visit to Syria," the statement read.
Agramunt cannot be impeached under PACE's current rules, but it's possible he may choose to resign voluntarily over the outcry.
"This visit was a mistake. And I have recognized that since I have seen full consequences of it," Agramunt said Monday. "Since the beginning of my mandate I have made 50 official visits and no questions were raised about these."
"I want to help find solutions to the war and avoid further refugee crisis," he added, also apologizing for not notifying PACE of his plans.
Agramunt had traveled to Syria in his capacity as a Spanish politician and not as a PACE representative.
And in what is becoming a usual refrain, he also claimed his visit had been manipulated by Russian media without elaborating further.
READ MORE: Lavrov: Avoiding Idlib 'attack' probe would mean intl community not looking for truth
Agramunt's statement on Monday caused great commotion among PACE members, with some demanding a vote of no confidence. Agramunt then suspended the session for ten minutes and left, and did not return when it resumed.
In March, Agramunt and ten other politicians from Spain, Italy, the Czech Republic, Serbia, and Belgium met with Russian lawmakers and Syrian President Bashar Assad in Damascus following an invitation by Hadiya Khalaf Abbas, the Speaker of the People's Council of Syria.
The European delegation also met with representatives of the Russian Reconciliation Center at the Khmeimim Air Base near Latakia.
In January, Tulsi Gabbard, a Democratic Congresswoman from Hawaii, was also heavily criticized for her "fact-finding" mission to Syria.
"Whatever you think of President Assad, the fact is that he is the president of Syria," Gabbard said. "In order for any possibility of a viable peace agreement to occur, there has to be a conversation with him."
Peter Ford, the former British ambassador to Syria, has said that the current political climate makes it impossible for anyone to approach Assad or the Syrian government as anything other than alleged war criminals.
"In the present atmosphere of hysteria, it is impossible to get a fair hearing about Syria or to make a fact-finding visit to Syria or to have any contact with Syria at all," Ford recently told RT.
"Minds in government and the Western media are virtually closed and we are in a period of total hysteria."
"It is impossible to have a rational discussion of Syria at the moment in many Western countries. There are too many vested interests that want to prevent a rational discussion. Anyone who tries to be objective is immediately, personally attacked."