US F-35 fighters arrive in Estonia amid NATO buildup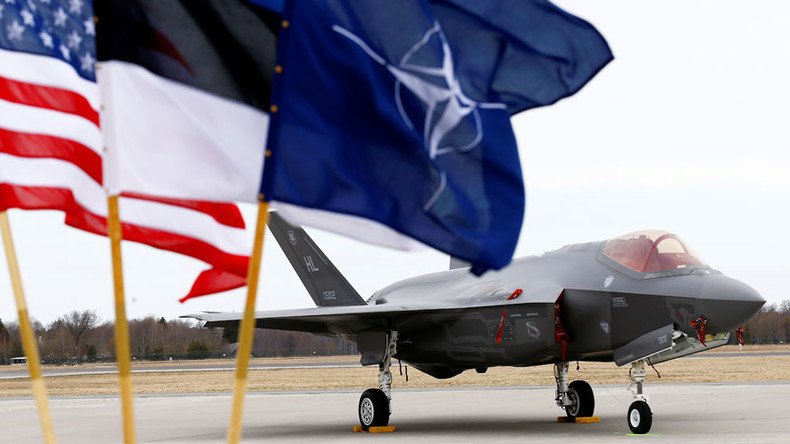 A detachment of F-35 Lightning II fighters from the United States has arrived at Amari airbase in Estonia to take part in training exercises aimed at "deterring" Russia.
READ MORE: NATO military drills gather hundreds of troops in Latvia (VIDEO)
The stealth fighter jets landed in the Baltic country on Tuesday, where they were met by both foreign and local journalists as well as Estonian Minister of Defence Margus Tsahkna. The aircraft are due to stay in the region for several weeks, the Estonian MoD confirmed to Postimees, during which time it will conduct training exercises with other US and NATO aircraft.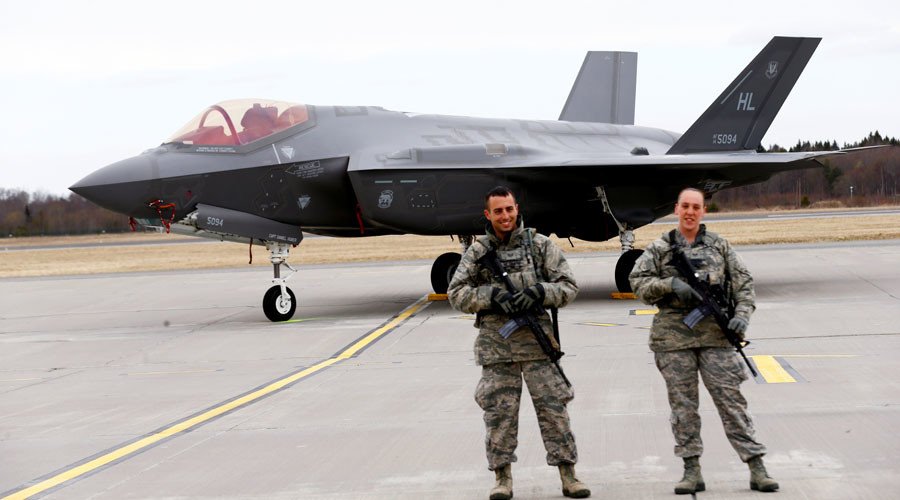 "F35s in Estonia! Training deployments like this build interoperability w/our partners, allies," tweeted General David L. Goldfein, Chief of Staff of the US Air Force.
The F-35s will be later sent to Romania, another NATO ally, a military official told CNN. These deployments are part of the European Reassurance Initiative, a US build-up of troops and weapons in Europe launched in 2014 to "deter Russian aggression." According to the Estonian news outlet ERR, the US plans to permanently station F-35s in Europe from 2020.
The fighters were earlier deployed to England, where they arrived at Lakenheath Royal Air Force Base on April 15, having made the journey from Hill Air Force Base, Utah. The deployment marked the first time American F-35A fighter jets have made an appearance in Europe, though a few countries already used them as part of their air fleet.
The F-45s arrival comes amid the biggest NATO build-up in Europe since the Cold War, in which thousands of troops have been stationed across Poland and the Baltic states. In March, 800 British soldiers began arriving in Estonia, while Germany has sent troops and tanks over to Lithuania. Earlier in April, 1,350 NATO soldiers arrived in northeast Poland in line with the planned buildup.
NATO decided to boost its military presence at the Russian border in the wake of the political crisis in Ukraine and a perceived Russian intervention there. Among the most vocal members of NATO, Poland and the Baltic states claimed that Russia could attack them after the events in Ukraine, prompting leading members of the alliance to agree on troop deployments.
Russia has consistently criticized the NATO buildup on its doorstep, describing it as a threat to regional security.
"We deplore that deployment for it raises tensions in Europe along the border between NATO and Russia. Russia doesn't pose any threat to Estonia nor any other NATO member state," Russian ambassador to the UK Alexander Yakovenko recently told the Daily Mail.
The F-35A, used by the US Air Force, along with its counterparts the F-35B and F-35C, used by the Marines and Navy respectively, are fifth-generation stealth fighter craft that can be used as both reconnaissance planes and tactical bombers.
You can share this story on social media: