NATO military drills gather hundreds of troops in Latvia (VIDEO)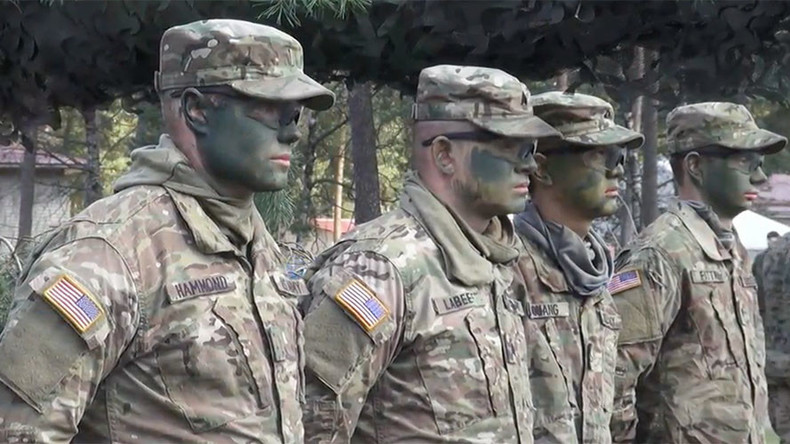 More than 1,200 troops from 12 countries, including the US and Sweden, are taking part in Latvia's two-week NATO military drills, dubbed Summer Shield. The exercises, which began as drills for coalition forces invading Iraq, are now seen as serving to deter Russia.
Soldiers from Latvia, the US, Bulgaria, Estonia, Canada, Lithuania, the UK, Luxembourg, Romania, Slovakia, Germany and also non-NATO member Sweden are taking part in the drills, which have been held in the country since 2004.
The servicemen are due to practice a range of combat support elements, including artillery, air defense, reconnaissance, defense against weapons of mass destruction, support of combat and construction engineers and anti-tank capabilities, LETA news agency reports, quoting the Latvian Defense Ministry.
Air support controllers, fire support observers, medical company and transport units will also show off their skills.
Initially set to prepare units for a coalition forces operation in Iraq, the annual drills have been included in NATO training and exercises program since 2014. Summer Shield, one of the country's largest military exercises, is open to any member of the military bloc to participate.
The exercises are now said to be a part of Russia-deterrence policy, according to Latvian national armed forces commander, Leonidas Kalnins.
In an interview to "Morning panorama" on state TV Kalnins referred to the upcoming Russian-Belarusian joint drills 'Zapad 2017' as a risk factor, noting that Latvia will be able to immediately respond to any Russia's action.
The increasing NATO build-up in Eastern Europe, the largest of its kind since the Cold War, has been consistently criticized by Moscow.
"They always have one thing on their mind: the 'Russian threat' myth, 'Russian aggression' slander and endless mantras about the need to confront it collectively," the Russian Foreign Ministry said in March following a recent NATO summit.
A decision to deploy thousands of troops along with multiple pieces of military hardware to Baltic States and Poland was reached during a NATO summit in Warsaw back July 2016. The forces were supposed to be first moved to Poland for war games and then scattered across seven countries, including Baltic States.
"This deployment is, of course, a threat for us," Russian Deputy Foreign Minister Aleksey Meshkov said early April, arguing that the large-scale drills at Russia's doorstep are bound to "gravely increase the risk of incidents."
He vowed a proportionate response from Moscow to any kind of potential threat to its borders, saying that "their every action will be followed by either a positive or negative answer."
READ MORE: 'Dream of generations': Poland officially welcomes US contingent of NATO's Russia-deterrent force
Earlier this month, 1,350 NATO soldiers arrived in northeast Poland in line with the planned buildup. British RAF fighters are scheduled to be stationed to Romania in May.
In March, the UK began sending over a total of 800 soldiers to NATO member state Estonia, which borders Russia to the east.
"We deplore that deployment for it raises tensions in Europe along the border between NATO and Russia. Russia doesn't pose any threat to Estonia nor any other NATO member state," Russian ambassador to the UK Alexander Yakovenko told the Daily Mail.