Spain plans to send 6 tanks & 350 troops to Latvia as part of NATO buildup – reports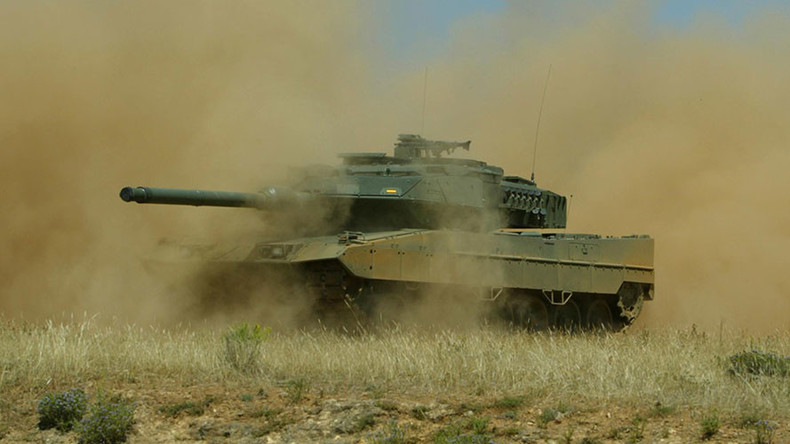 Spain is planning to send around 350 troops along with 6 tanks and over a dozen armored vehicles to Latvia as part of NATO's battalion led by Canadian forces, the Spanish Embassy in Riga told Latvian media.
The six Leopard 2e tanks, which will be deployed outside Spain for the first time, will be accompanied by between 14 and 16 armored vehicles, the embassy said according to Latvian information agency LETA.
The stated objective of the mission is to strengthen Latvian security and reinforce NATO's presence on its eastern flank. The Spanish armored vehicles will first be showcased during the military drills to take place on Latvian soil this May, according to local media.
Latvian Defense Ministry spokesman, Kaspars Galkins, however, said talks are still underway with NATO states on what specific equipment they will station in the country.
"Several countries participating in the battalion have announced what kind of equipment they intend to deploy to Latvia. Consultations continue with these countries, and no specifics regarding the type of military equipment and the precise number of units has been determined," Galkins said.
According to the spokesman, the Latvian Defense Minister Raimonds Bergmanis will further discuss the matter when NATO defense ministers meet in Brussels this week.
While in Belgium, Bergmanis will also attend a summit of defense ministers of the NATO battalion in Latvia (Albania, Italy, Spain, Slovenia and Poland), organized by Canadian Defense Minister, Harjit Sajjan.
During a NATO summit in Warsaw in July 2016, the bloc's members agreed on the "biggest reinforcement since the Cold War," posting four multinational battalions to Estonia, Latvia, Lithuania, and Poland.
In January, 2,800 pieces of US military hardware, including Abrams tanks, Paladin artillery, and Bradley fighting vehicles, and 4,000 troops arrived in Europe as part of the operation. These forces then moved on to Poland to participate in military drills in late January and were then deployed across seven countries, including the Baltic States, Bulgaria, Romania, and Germany.
Germany, Canada, and Britain are also contributing to the significant NATO buildup in Eastern Europe, and are sending battalions of up to 1,000 troops each to Estonia, Latvia, and Lithuania.
READ MORE: NATO buildup in E. Europe threat to Russian security, increases risk of incidents – Moscow
While NATO members continue to point to the perceived "Russian aggression," calling it "a source of instability," Russia has consistently denied the allegations. Moscow also criticized the NATO military buildup on its borders, saying it increases the risk of incidents and poses a threat to Russian national security.
"This deployment is, of course, a threat for us," Russian Deputy Foreign Minister Aleksey Meshkov said last week, adding that "it is obvious that the steps by NATO gravely increase the risk of incidents."
You can share this story on social media: