Police weren't equipped to protect themselves & others during Stockholm truck attack – reports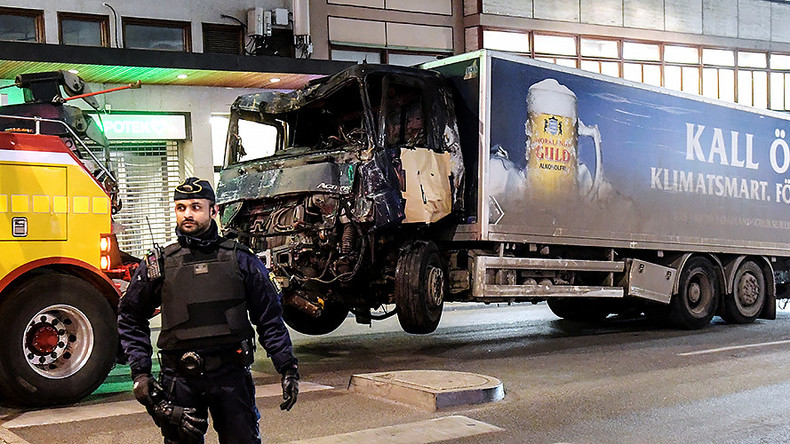 Swedish police lacked key protective equipment, including bullet-proof vests, helmets, and intercom, as well as adequate training, during the April 7 truck attack in central Stockholm, local media report, citing accounts from officers at the scene.
Up to 50 internal police reports have been submitted regarding the attack, which took place earlier this month in Drottninggatan, one of the city's main pedestrian areas. The truck ploughed through crowds of people before crashing into a department store, killing four people and injuring 15.
"We simply could not equip that many police officers at the same time," Stockholm Police Union Health and Safety Officer Roger Ostergren told TT news agency.
Swedish policemen in the field normally have access to light protective vests. Heavy-duty vests are shared between them, however. During the fatal Stockholm attack, police officers who are usually desk-bound were called to the scene, but they were not properly equipped, TT reported.
Moreover, some officers said they had been sent on surveillance missions carrying only their regular service weapons because they had not been trained to use the MP5 submachine gun, which is called for in particularly dangerous situations.
"My sense of being part of this mission was that those of us on patrol were gliding around as targets without reasonable opportunity to protect ourselves and others," one officer wrote in his report.
Ostergren said Swedish police began acquiring more protective equipment following the terrorist attacks in France, Brussels, and Copenhagen.
"That's when they started to wake up. That's when they bought the protective equipment. But it wasn't enough," he told TT.
While Ostergren said the Police Union and the employer see eye to eye on the issue of providing officers with adequate equipment, he added "but it's typical that something has to happen before they react, that there is no proactive thinking."
Erik Widstrand, who was chief commanding officer during the attack, admitted to Dagens Nyheter (DN) that there may not have been enough protective vests for all the officers in the field.
"It may turn out that in this exceptional situation there wasn't enough, which means we have to stock up based on this new experience. But under normal circumstances, when we require heavy-duty helmets and vests, we have enough," he told Dagens Nyheter.
The Swedish police have since identified the alleged perpetrator of the April 7 truck attack as a rejected asylum seeker. The Islamic State (IS, formerly ISIS/ISIL) sympathizer managed to flee the scene, but was later arrested after a manhunt.
Earlier this month Uzbekistan's Foreign Ministry confirmed that the suspect in the Stockholm truck attack (an Uzbek citizen) had been investigated for having terrorist sympathies. He had apparently called on his fellow Uzbeks to go to Syria to join Islamic State.