ISIS 'essentially moved' its Syria HQ from Raqqa to Deir ez-Zor province – report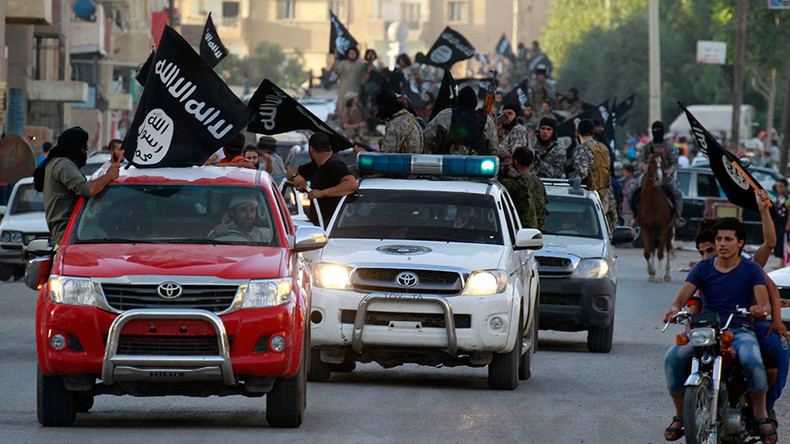 In a move that may affect the protracted Raqqa offensive, Islamic State (IS, formerly ISIS/ISIL) terrorists have "essentially moved" their so-called capital in Syria to the eastern province of Deir ez-Zor, Fox News reported, citing unnamed US defense officials.
The jihadists and their military command are now centered some 140 kilometers southeast of the city of Raqqa, the US media report claimed.
Saying that the move came in the wake of increased pressure from the US-backed Syrian fighters, the report claimed that the IS "government" is no longer in Raqqa.

In late March, the US coalition told media outlet Newsweek that up to 3,500 IS fighters were estimated to have been present in Raqqa, long described as the terrorist group's "capital" or stronghold in Syria. The city with the population of some 300,000 people was captured by the terrorists in 2013.

But hundreds of IS "bureaucrats" left the terrorist stronghold in the past two months for the IS-held city of Mayadin, officials told Fox News, adding that the move has been watched by US military drones. Mayadin is located some 40 kilometers from the surrounded city of Deir ez-Zor, which has been the sole government-controlled area of the province resisting repeated IS offensives.
READ MORE: RT spots US 'advisers' on Raqqa frontline on visit to Syria's strategic Euphrates Dam (EXCLUSIVE)
In mid-April, following a US missile strike at the Syrian Army airbase of Shayrat, the coalition reportedly scaled down their operation in the region, having carried out some 120 airstrikes around Raqqa. More than 7,800 strikes were conducted in March, according to the Pentagon.
Washington has been backing the Syrian Democratic Forces (SDF), a multi-ethnic, but predominantly Kurdish alliance of forces in an offensive known as Operation Euphrates Rage. Launched in November last year, the operation aimed to encircle and retake Raqqa.
If indeed accurate, the situation will likely affect the course of the siege of Raqqa, which has been dragging for months without any time limits for a major battle announced. With the jihadi fighters leaving the city in northern Syria, the battle for Raqqa is now "imminent," the US defense officials, cited by Fox News, claim.
Deir ez-Zor province has seen some of the bloodiest fighting and massacres in Syria, which have also been apparently underreported by the mainstream media. The infamous US strike on the Syrian Army, in which dozens of troops were killed "by mistake" in an hour-long coalition raid on September 17, also took place in Deir ez-Zor.

Moscow has repeatedly sounded alarm over the overlooked dire humanitarian situation in the province and its capital city, calling out Western officials for their hypocrisy in criticizing Russia for allegedly not helping the Syrians while at the same time ignoring the plight of the civilian population in all but some of the select rebel-controlled areas. In Deir ez-Zor, the Russian aid has been vital as tons of food and supplies have to be delivered to the besieged city by air and often only airdrops are possible.

READ MORE: 'Twisting facts': Moscow slams Mogherini for saying EU alone in providing aid to Syria
According to Major General Igor Konashenkov, a spokesperson for the Russian Ministry of Defense, "only through the Russian Syrian Reconciliation Center was thousands of tons of humanitarian aid delivered to Aleppo, Hama, Homs, Damascus, Latakia, Palmyra, Deir ez-Zor, and other cities."
You can share this story on social media: