Mayor of Italy quake-leveled town asks 'disaster tourists' to stop taking selfies
Published time: 21 Apr, 2017 13:40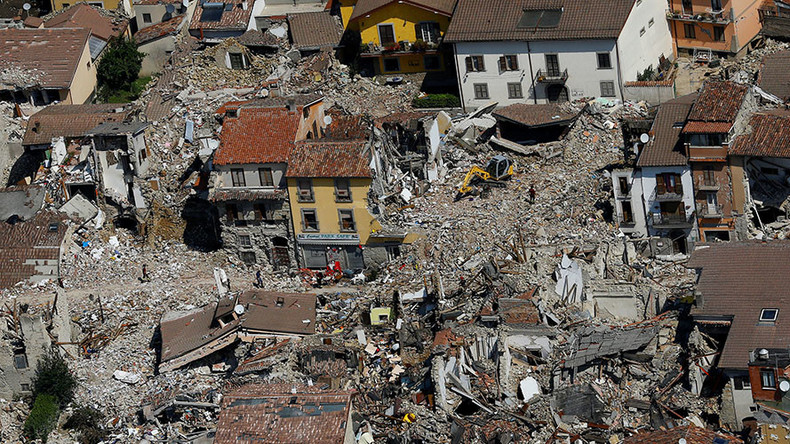 The mayor of Amatrice, a small town in central Italy which was practically destroyed by last year's earthquake, has called on tourists to stop flocking to the rubble and show some compassion for the some 300 residents killed by the disaster.
Sergio Pirozzi told RT he decided to turn to the media after an incident last Monday, when he found some tourists taking pictures of themselves at the ruins.
"I stopped my car and asked these people what they were doing. They asked me who I was, and I answered, Amatrice's mayor. They became red in the face. I explained to them that the home where they were doing selfie still had the memory of dead people," he said.
"It does not happen often. But people should know that behind the rubble there are men and women who are now dead, there is the history of this country, there is suffering. Selfies is not good," he added. "Such things demonstrate that many people lack sensitivity. I called these people to the order, telling them to show more respect."
Pirozzi said his intention is not to play sheriff or scare off tourists, but he would welcome if visitors were more interested in the picturesque mountains around the town than on the tragedy that befell it last August.
The mayor said the multibillion-euro reconstruction effort offers Amatrice an opportunity for development.
"After death there is life and I hope that we will be able to seize this opportunity. We are lucky to be alive, we must be able to turn this into development," he told RT.
The August quake damaged several towns in the Lazio region, but Amatrice was the closest to its epicenter and endured worst devastation and most fatalities.