Restore France's borders, expel foreign nationals on watchlist – Le Pen to French govt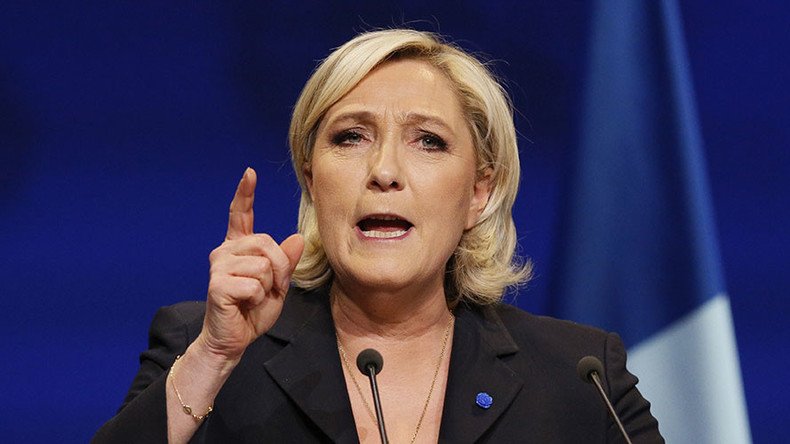 Presidential candidate Marine le Pen has called on the French government to immediately reinstate the country's borders and expel foreign nationals being monitored by intelligence services in the aftermath of yesterday's terrorist attack in Paris.
"I call upon this ephemeral government, worn out by inaction, for immediate restoration of our national borders," Le Pen said in a statement from her campaign headquarters just two days ahead of the first round of France's presidential elections.
Follow RT's LIVE UPDATES on Paris shooting
The leader of the far-right political party, National Front, also called on the French government to "immediately" expel all foreign nationals being monitored by intelligence services, referring mainly to those on the "Fiche S" list, which contains people considered to be a threat to national security who should be constantly monitored.
According to Le Pen, the French government has done everything to make the Republic lose the war against terrorism.
"The war that is waged against us is asymmetrical, revolutionary. We cannot afford to lose this war. But for the past ten years, left-wing and right-wing governments have done everything they can for us to lose it. We need a presidency which acts and protects us," Le Pen said.
The candidate added that, if she is elected president of France, she "will immediately, and with no hesitation, carry out a battle plan against Islamist terrorism and against judicial laxity."
"New restrictive regulations on immigration, asylum or citizenship must be taken," she said.
"Je demande l'expulsion immédiate des fichés S étrangers." #ConfMLP

— Marine Le Pen (@MLP_officiel) April 21, 2017
Le Pen once again denounced Islamist ideology, saying that it "must not have any rights to be cited in France."
"Salafist organizations… must be banned. Hate preachers must be expelled, Islamist mosques [should be] closed," she stated.
The presidential hopeful also said that mosques must not be financed by public funds or foreign nationals.
"A ce gouvernement éphémère, usé par l'inaction, je demande d'ordonner la restauration immédiate de nos frontières nationales." #ConfMLP

— Marine Le Pen (@MLP_officiel) April 21, 2017
The attack carried out on the French capital's main thoroughfare and major landmark, the Champs-Elysees, has shaken the nation once again, just two days before the first round of the presidential election (April 23).
One police officer was killed and two injured in the shooting in Paris on Thursday evening. One passerby, a foreign woman, was also slightly injured in the incident.
The Islamic State terrorist group (ISIS/ISIL) later claimed responsibility for the attack through its propaganda website. The attacker was killed by police following the shooting.
Shortly afterwards, French presidential hopeful Francois Fillon called for campaigning activities to be suspended.
You can share this story on social media: