Champs-Elysees shooting: 'Terrorist' gunman kills police officer, injures 3 others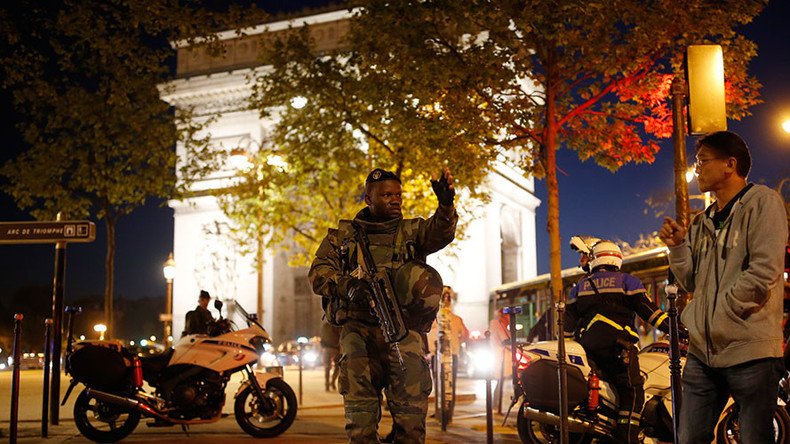 21 April 2017

16:39 GMT

French authorities have confirmed the identity of the gunman in Thursday's attack on the Champs-Elysees as Karim Cheurfi.

"He was not on the security watchlist and had shown no signs of radicalisation despite his many years in prison," Paris prosecutor Francois Molins told reporters, adding that police found a note near his body which indicated support for Islamic State (IS, formerly ISIS/ISIL).

The 39 year old was a French national who lived with his mother in the eastern Paris suburb of Chelles, according to Reuters.

Police said they are continuing to assess whether Cheurfi had accomplices or if he acted alone.

16:38 GMT

A written note defending Islamic State (IS, formerly ISIS/ISIL) has been found near the body of the Champs-Elysees attacker, sources close to investigation said, as cited by AFP.

Investigators also reportedly found a copy of the Koran in the vehicle of the assailant, other AFP sources added.

14:10 GMT

The slain officer, Xavier Jugele, took part in the police operation outside the Bataclan Theatre during the November 13, 2015, terrorist attacks in Paris, French media reported.

In November of 2016, he reportedly told the journal People that he was happy that the theatre was re-opening.

"I'm happy to be here. Glad the Bataclan is reopening. It's symbolic. We're here tonight as witnesses. Here to defend our civic values. This concert's to celebrate life. To say no to terrorists," he told the journal at the time.

12:27 GMT

Meanwhile, French media have named the slain police officer as 37-year-old Xavier J.

"All our thoughts go to his colleagues and family, whom the police community have tried to support as much as possible throughout the night," Celine Berthon, a French police union chief, told Europe 1 radio.

12:26 GMT

Prime Minister Bernard Cazeneuve has lashed out at presidential hopeful Marine Le Pen, accusing her of exploiting the attack to score political points.

"She seems to be deliberately forgetting everything that has been done over five years to make people forget that she opposed everything, without ever proposing anything serious or credible," he said.

According to Cazeneuve, "after every drama, the National Front candidate seeks to profit... to divide."

"She [Le Pen] seeks, without shame, to exploit fear and emotions for purely political ends," he added.

Cazeneuve criticized another French presidential candidate, Francois Fillon, slamming his record on security when he was prime minister.

11:52 GMT

Police found notes in the car of the Champ Elysees attacker containing the address of the General Directorate for Internal Security (DGSI), a French counter-terrorism and counter-espionage agency located in Levallois-Perret commune in the northwestern suburbs of Paris. They also found the address of a police station in Lagny commune in the eastern suburbs of Paris, as well as the addresses of three gun shops.

11:15 GMT

French Presidential hopeful Emmanuel Macron has called upon France to unite and reject "fear."

"Don't yield to fear, don't yield to division and intimidation. Our generation must rise to this challenge," he said in a statement from his campaign headquarters.

According to Macron, "the weakening of local intelligence services implemented almost 10 years ago was a mistake."

10:51 GMT

Many shops on the Champs Elysees have been closed, according to photos on social media.

10:41 GMT

Another terrorist attack in Paris. The people of France will not take much more of this. Will have a big effect on presidential election!

— Donald J. Trump (@realDonaldTrump) April 21, 2017

10:29 GMT

Police found a shotgun and several knives in the alleged attacker's car, AP reported, citing the Paris Prosecutor's Office.