French presidential hopeful Fillon calls for suspension of campaign activities after Paris shooting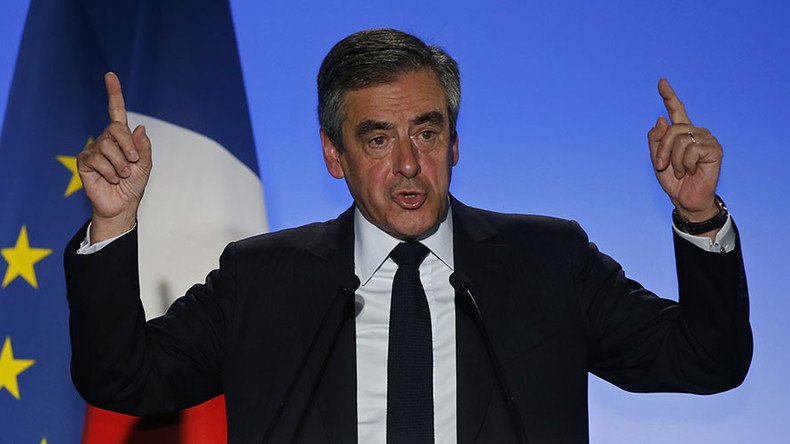 French presidential hopeful Francois Fillon has called for election campaign events and activities to be suspended the following the shooting in Paris. The attack came just two days before France goes to the polls to elect its president.
Follow RT's LIVE UPDATES on Paris shooting
"I consider that in the context in which we live [today] there is no need to continue the electoral campaign tonight and tomorrow [April 20-21]," Fillon said during his speech on France 2 television. He added that he would cancel his trip to the Alps on Friday.
One police officer was killed and two injured in a shooting on the central boulevard of Champs Elysees in central Paris. One passerby, a foreign woman, was also lightly injured in the incident. French President Francois Hollande later said all leads indicate that the attack was of a "terrorist nature."
"We should first show our solidarity to police, to the police officer who was killed, those who were injured and then all those who risk their lives to ensure our safety," Fillon continued.
READ MORE: What we know about alleged attacker in Champs-Elysees shooting
The Islamic State terrorist group (ISIS/ISIL) has claimed responsibility for the attack. The attacker was killed by police.
"The fight against Islamic totalitarianism, against those who sponsor these attacks, against those who are at the origin of the rise of this intolerance, this fundamentalism, [it] must be the absolute priority for the next president of the Republic and the government," Fillon said.
Later, speaking at his campaign headquarters, Fillon called for the creation of an international coalition to fight terrorism.
"My foreign policy [if elected president] would be focused on the destruction of Islamic State [IS, formerly ISIS/ISIL], I would propose an initiative to build an international coalition," Fillon said.
According to Fillon, "the more the US, Europe, Russia, Iran, Turkey, and the countries of the Gulf are divided, the more the victory against Islamic totalitarianism is delayed."
"From Washington to Moscow, I would take diplomatic initiative to create conditions for an international coalition against terrorism," he concluded.
You can share this story on social media: