What we know about alleged attacker in Champs-Elysees shooting
Published time: 21 Apr, 2017 08:15
Edited time: 21 Apr, 2017 11:03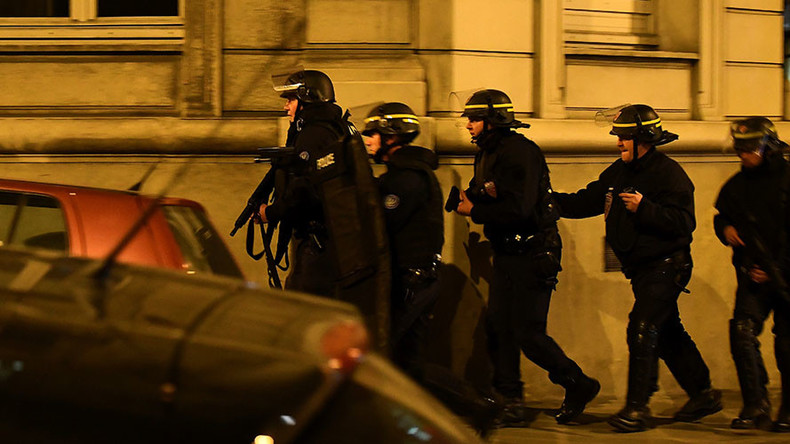 Hours since an assailant with a Kalashnikov killed a Paris police officer and injured three other people, French police have yet to name the suspect, despite saying he had been known to them. However, media outlets claim to have determined his identity.
Follow RT's LIVE UPDATES on Paris shooting
As conflicting reports emerged in the aftermath of Thursday night's attack in central Paris, France's Interior Ministry pleaded with the public "not spread any misinformation" and "only share information coming from a trusted source."
#ChampsElysées Les stations de métro Ligne 1 George V, Roosevelt et Champs-Elysées-Clémenceau sont fermées ; dispositif de sécurité maximal

— Ministère Intérieur (@Place_Beauvau) 20 апреля 2017 г.
However, while counter-terrorist police were investigating the shooting and armed police units were reportedly raiding the suspect's home in the commune of Chelles east of Paris, French authorities released no information, except for a statement saying that "the identity of the attacker is known and has been checked," as Paris prosecutor Francois Molins put it, insisting that police must first make sure he had no accomplices.
No comment on Islamic State's (IS, ISIL/ISIS) claim of responsibility for the attack, in which the terrorist group referred to the gunman as Abu Yusuf al-Beljiki ("The Belgian"), was forthcoming either.
IS' claim has not been possible to verify, and the terrorist group has previously used an apparent nom de guerre to refer to militants and sympathizers, meaning the name it gave for the suspect may well be false.
However, media reports soon sprang up citing police sources claiming a manhunt for a second suspect, who arrived in France from Belgium by train, is already underway.
Several media reports based solely on their sources, but with matching details, then emerged claiming to reveal the identity of the gunman himself. Le Parisien, BFM TV, and later AP, all identified the suspect as Karim C. or Karim Cheurfi, describing him as a French-born 39-year-old with a criminal record.
Le Parisien was the first to give a name for the attacker, citing a copy of a driver's license found in the car that was used in the shooting. The alleged suspect had previously been jailed for attacking law enforcement officers and had also been the subject of a terrorism investigation, the outlet reported.
Back in 2003, Karim was sentenced to 20 years in prison for the attempted murder of three people, including two policemen, during and after a police chase in 2001. However, his sentence was decreased to 15 years in 2005.
BFM TV identified the suspect as French citizen Karim Cheurfi, reporting that he had been driving a stolen vehicle in 2001 when he fired shots at police officers who were chasing him, injuring two. While in detention at a police station, the then 23-year-old allegedly managed to wrestle a gun away from a security guard and shoot him five times. Cheurfi lured the guard into his cell under a false pretext, asking for medication.
It is not clear when exactly Cheurfi was released or how he has been monitored since then. Reports said that the suspect in Thursday's shooting was on the security threat list.
Le Parisien said that the suspect was allegedly born in 1977 in Livry-Gargan, a commune in the Seine-Saint-Denis department located in the northeastern suburbs of Paris.
AP has released a photo of Cheurfi, saying it had obtained the image from a source on condition of anonymity. The same photo has appeared in several French media outlets.
The police document seen by AP allegedly matches the address raided by police in the commune of Chelles on Thursday night.