Russian military adviser killed in attack on Syrian govt camp – MoD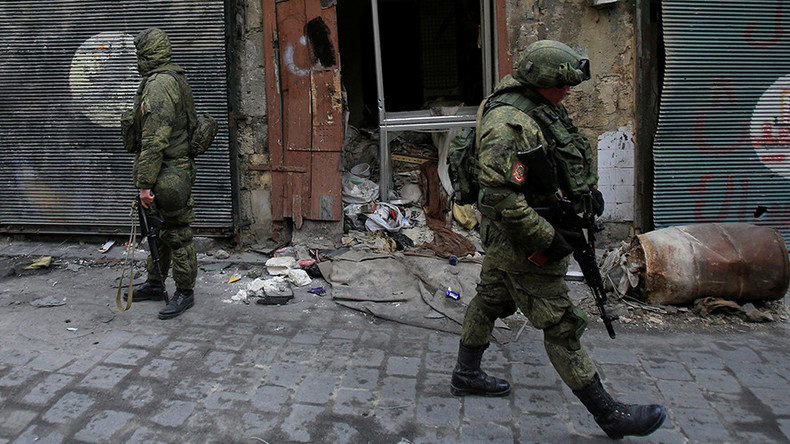 A Russian military adviser has been killed in a militant assault on a Syrian government forces camp, the Russian Ministry of Defense has said. The officer, Major Sergey Bordov, was training a Syrian Army unit and was part of a group of Russian advisers.
During the militant attack, Bordov helped establish the defense line and direct the actions of the Syrian Army soldiers, a statement from the Russian Ministry of Defense said.
"During the militants' attack, the Russian officer directed the actions of the Syrian soldiers, thus successfully preventing the terrorists from breaching the defenses and entering the camp," the ministry noted. It added that "in the course of the fighting, the officer sustained fatal injuries."
The major will be awarded a decoration posthumously.
The incident comes just over week after a deadly attack involving Russian servicemen in Syria. On April 11, it was reported that two Russian military instructors had been killed and one soldier injured as they came under mortar shelling by a group of militants.
Earlier, the Ministry of Defense said that a Russian soldier had died near Palmyra, Syria, when Islamic State (IS, formerly ISIS/ISIL) militants tried to break through an area occupied by Syrian pro-government forces. A Russian major general also lost both legs and an eye when a radio-controlled bomb hit a convoy heading towards an airfield west of Palmyra. In February, four Russian servicemen were killed in another radio-controlled bomb blast that targeted a military convoy.
The total number of Russian servicemen killed in Syria since September 2015, when Moscow launched its military operation there at the invitation of Damascus, was 27 before the latest incident, according to the Ministry of Defense.