Indian tycoon Vijay Mallya arrested in London over billion-dollar debt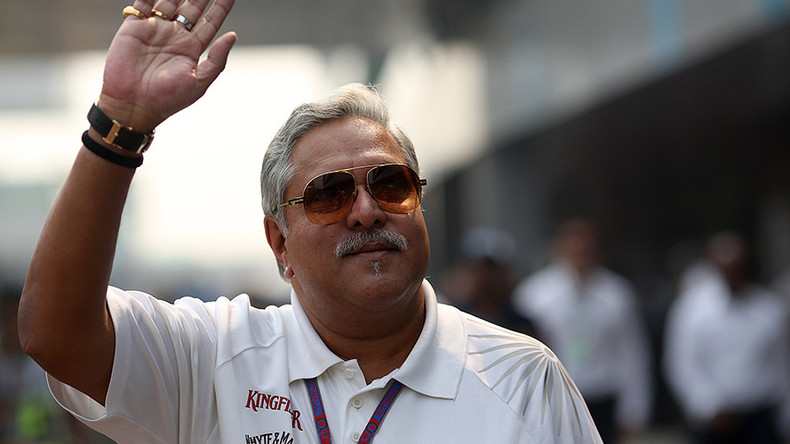 The Indian Formula 1 tycoon Vijay Mallya was arrested by British police on behalf of authorities in India who want to prosecute the businessman over accusations of unpaid loans worth more than a billion dollars.
Mallya was arrested at a central London police station by officers from the Metropolitan Police's Extradition Unit Tuesday morning "on behalf of the Indian authorities in relation to accusations of fraud," according a police statement.
At a preliminary hearing at Westminster Magistrates' Court later on Tuesday, Mallya was released on conditional bail, with the case adjourned until May 17.
READ MORE: Indian spiritual festival caused damage to sacred river that could take 10 years to repair
Mallya's debt to various banks totals 94 billion rupees ($1.45 billion), according to AP. This stems from a concoction of loans for bad businesses, including his now-defunct Kingfisher Airlines.
The collapse of the airline, which was grounded in 2012, triggered the failing of several of his other businesses, which range from alcohol to the Formula 1 team Force India and an Indian Premier League cricket club.
Usual Indian media hype. Extradition hearing in Court started today as expected.

— Vijay Mallya (@TheVijayMallya) April 18, 2017
Mallya fled to the UK in March 2016 and refused three summons to return to India to face trial, where the country's Central Bureau of Investigation has charged him with cheating and conspiracy for defaulting on a 9 billion rupee loan from 2009.
READ MORE: Amazon forced to remove Gandhi flip flops after public outcry in India
Also in March last year, Mallya was blocked from receiving a $75 million severance payment from the British alcohol company Diageo, after banks and creditors demanded the money be used to settle some of his outstanding debt, reports the BBC.
New Delhi officials praised the arrest, promising Mallya will be returned to India to face the charges.
"Mallya will be brought back to India. The government is working toward it. No one will be spared," said Santosh Gangwar, the junior minister for finance.