Amazon forced to remove Gandhi flip flops after public outcry in India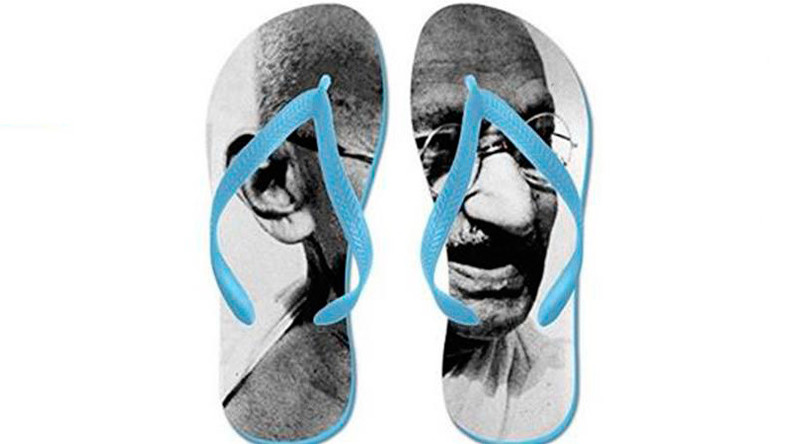 Flip flops featuring the face of Mahatma Gandhi have caused widespread backlash in India, forcing Amazon to remove an India themed product for the second time in a week.
The 'Gandhi flip flops,' which were described as a pair of "foam rubber flip flops," were on sale for $16.99. Gandhi, who led India to independence from Britain, is widely revered in the country and is commonly referred to as the Father of the Nation. Numerous people took to social media to express their outrage that the flip flops were for sale on the online store.
The furore comes only days after Amazon was forced to apologize for selling doormats featuring the Indian flag.
In the wake of that furor India's Ministry of External Affairs said Amazon should respect Indian sensitivities and sentiments.
"As a follow up to the matter regarding the sale of doormats with the Indian flag on Amazon, our Ambassador in Washington has been instructed to convey to Amazon that while providing a platform for third party vendors, they should respect Indian sensitivities and sentiments," Ministry spokesperson Vikas Swarup said to NDTV.
"Amazon must tender unconditional apology. They must withdraw all products insulting our national flag immediately. If this is not done forthwith, we will not grant Indian Visa to any Amazon official. We will also rescind the Visas issued earlier." Minister for External Affairs Sushma Swaraj said in a series of tweets.
In India insulting the national flag is punishable with fines and imprisonment. Country Manager of Amazon India, Amit Agarwal wrote to Swaraj to say that "Amazon India is committed to respecting Indian laws and customs."
You can share this story on social media: