'Start down the dark path you won't': Master Yoda asks French voters not to opt for Le Pen (VIDEO)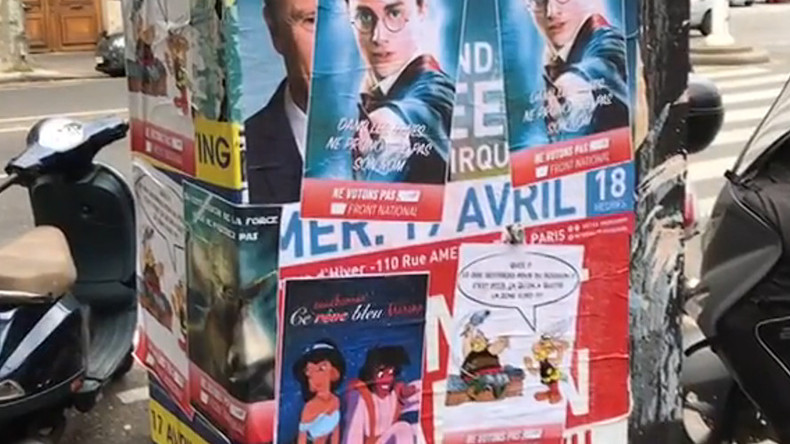 Cult characters from films and cartoons, including Master Yoda, Harry Potter, and Aladdin, have popped up on posters in Paris on Monday, urging people not to vote for French far-right candidate Marine Le Pen in the presidential election.
"Don't put her name on the ballots," Harry Potter tells passers-by, pointing at potential voters with a wand in an apparent reference to Lord Voldemort, commonly referred to as He-Who-Must-Not-Be-Named.
"You won't start down the dark path," the iconic Jedi Master Yoda says, as pictured on another poster.

Another popular character, Asterix, is up in arms over the cost of fish after France – as suggested by Le Pen – leaves the Eurozone. "What?! Is that why we left the euro zone?" he wonders.
Jasmine and Aladdin are also puzzled about their future. The "blue dream" has turned into a "dark blue nightmare," Aladdin sighs. Blue is the color of Le Pen's campaign team, and her name in combination with this color – bleu Marine – translates as 'dark blue.'
Posters featuring Harry Potter, Jedi Master Yoda from Star Wars, Aladdin, and Asterix appeared in the 17th arrondissement of Paris Monday morning, RIA Novosti reports.
READ MORE: 'France isn't responsible': Marine Le Pen's comment on 1942 Jewish roundup triggers outrage
Last week, posters making fun of the French center-right presidential candidate, former Prime Minister Francois Fillon, spread across the French capital. On one of them, Cinderella asserted that "a friend gave her dress and shoes." Another one depicted Pinocchio claiming that "Jiminy Cricket was never a parliamentary assistant."
Last month, Fillon was placed under formal investigation over allegations he misappropriated government funds.
A February report by Le Canard Enchaine accused the politician's wife Penelope of earning €500,000 ($530,000) in parliamentary funds for work she did not do. Fillion said that he would remain in the race even if formally charged. Prior to the revelations, Fillon was polling a close second to National Front candidate Marine Le Pen, but has since fallen behind center-left contender Emmanuel Macron.
Read more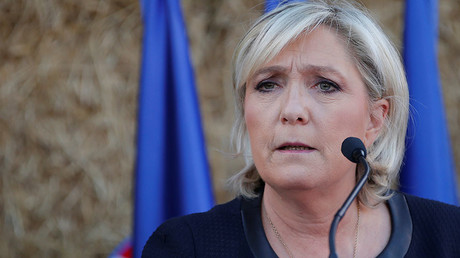 A week before the first round of the French presidential elections, Le Pen and Macron are leading in the majority of the polls. According to the latest one by PresiTrack OpinionWay / ORPI for Les Echos and Radio Classique, the far-right candidate and her center-left rival are both set to secure 22 percent in the first round.
Fillon is trailing one percentage point behind at 21 percent.
Last week, German President Frank-Walter Steinmeier urged the French not to vote for the "populist and nationalist" candidate, out of fears that Le Pen will stage a Frexit, shattering one of the pillars of EU stability.
"Don't listen to the siren songs of those who promise you a great French future after getting rid of all that is part of France today – guaranteeing European stability and being a pillar of the European Union," Steinmeier told French newspaper Ouest-France and Germany's Funke Mediengruppe in response to a question about the possibility of Le Pen winning the election.

The forthcoming French presidential election will be held in France in two rounds, the first of which is due on April 23, and the second, on May 7.