Masked protesters throw flares, smoke bombs at demo ahead of Le Pen rally in Paris (VIDEO)
Hundreds of protesters have taken to the streets of Paris to protest against right-wing presidential candidate Marine Le Pen.
Demonstrators are holding up banners and chanting slogans, while riot police have been deployed to the scene.
Protesters are shouting: "This is Paris! Paris is antifascist!"
According to an AFP journalist on the scene, the protest consists of around 400 people, including members of trade unions and antifascist organizations.
The march, taking place in the northeastern suburb of Aubervilliers, is being held six days before the first round of the French presidential elections.
The organizers of the march, Anti-fascist Action Paris-Banlieue, accuse Le Pen's party, the National Front, of the "normalization and amplification of the state of emergency, racism and Islamophobia."
Read more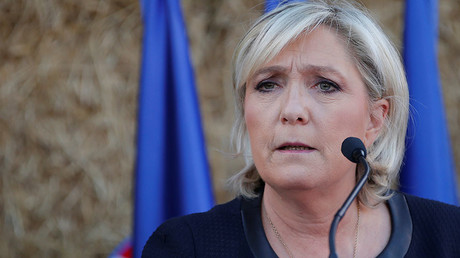 Protesters are shouting the slogans "This is Paris! Paris is antifascist!" and "solidarity with refugees."
The procession will go past the mayor's office in the 19th arrondissement of Paris, passing not far from the Zenith, where Le Pen plans to hold a meeting on Monday. According to Le Figaro, some groups have said they are planning some "actions" before the meeting.
On Wednesday, the headquarters of Le Pen's National Front party in Paris was hit by a Molotov cocktail. A group calling themselves "Combat xenophobia" claimed responsibility to the French news agency AFP.
Marine Le Pen is one of five candidates in France's 2017 presidential election. The others are the Republicans' Francois Fillon, the Socialist Party's Benoit Hamon, left-wing candidate Jean-Luc Melenchon, and Emmanuel Macron, a liberal candidate.