Russia can't confirm fatal chemical release in US-led coalition strike in Syria
Published time: 13 Apr, 2017 17:01
Edited time: 13 Apr, 2017 17:40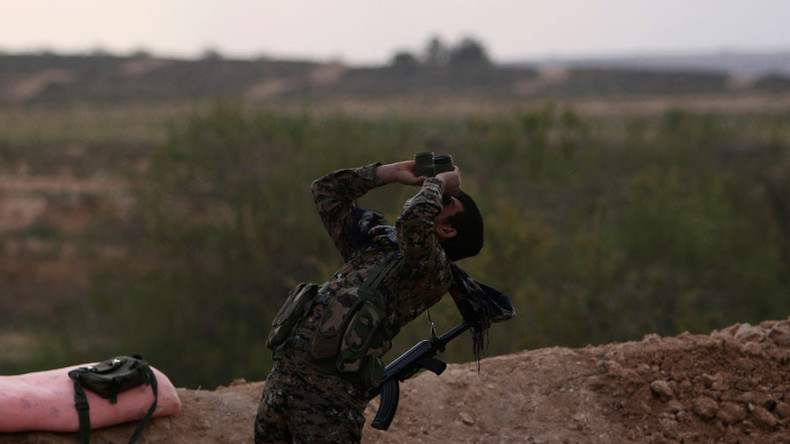 The Russian Defense Ministry has no information that could confirm reports about a US-led coalition airstrike in the Syrian Deir ez-Zor province leading to civilian deaths, the ministry's spokesman, Major General Igor Konashenkov, said.
"The Russian Defense Ministry does not have any information confirming the reports about loss of life and material damage resulting from a bombing carried out by the US-led coalition warplanes in the area of the city of Deir ez-Zor," Konashenkov told journalists at a press briefing.
He went on to say that the Russian military has sent surveillance drones to the area of the alleged airstrike to assess the situation and monitor developments on the ground.
Earlier on Thursday, the Syrian Army's General Command said that the US-led coalition had carried out an airstrike on positions held by Islamic State (IS, former ISIS/ISIL) terrorists in the village of Halta to the east of Deir ez-Zor on Wednesday between 5:30pm and 5:50pm local time (14:30-14:50 GMT), as reported by the Syrian SANA news agency.
The Syrian military said the airstrike allegedly triggered the release of a "white cloud that became yellow" containing hazardous substances, as the coalition aircraft apparently hit a "huge repository" of toxic materials possessed by the extremists.
The statement issued by the Syrian Army's General Command also said that "hundreds, including a large number of civilians," had died in the area due to suffocation caused by inhaling the toxic substances released by the coalition airstrike, SANA reports.
This incident confirms that terrorist groups, particularly Islamic State and Al-Nusra Front, "possess chemical weapons" as well as have "an ability to obtain, transport, store and use" toxic substances, the Syrian military stressed, while once again insisting that the government forces "do not possess any kind of chemical weapons."
In the meantime, the US-led coalition has denied the incident.
"The coalition conducted no strikes in that area at that time. The Syrian claim is incorrect and likely intentional misinformation," the coalition's spokesman, US Air Force Colonel John Dorrian, told Reuters. He reiterated the denial on Twitter.
.@OIRSpox has seen the reports from SANA alleging @CJTFOIR strikes near Deir Ezzor Weds--not true! Intentional misinformation...again!

— OIR Spokesman (@OIRSpox) April 13, 2017
Earlier, US Central Command admitted mistakenly hitting Syrian Democratic Forces (SDF) fighters in an airstrike that claimed lives of 18 opposition fighters on April 11.
The US-led coalition has scaled back its air raids in Syria since the US missile strike on a Syrian military airbase to avoid escalating tensions with Russia and Syria.
US Navy destroyers fired 59 Tomahawk cruise missiles at the Shayrat airfield after US President Donald Trump blamed the "Syrian regime" for the April 4 chemical weapons incident in the rebel-held town of Khan Shaykhun in Idlib province.