Defying the supreme leader? Ahmadinejad set to run for Iran presidency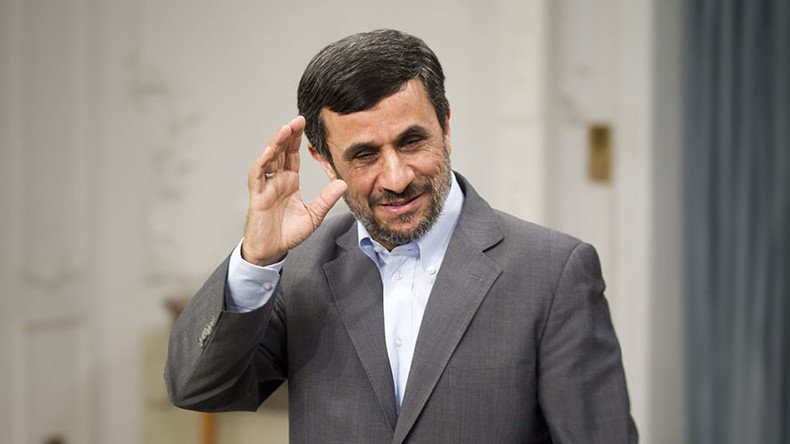 Former two-term Iranian President Mahmoud Ahmadinejad has filed paperwork to run for the office for a third time in the May 19 election. The move comes in defiance of Supreme Leader Ali Khamenei, who advised him against it.
The former hardline president is one of 126 people who registered Interior Ministry on Wednesday for the upcoming election, according to the IRNA news agency. Registration is open for five days, and more candidates, including incumbent President Hassan Rouhani, are expected to join.
The list will be screened by the Guardian Council, a religious body that acts to prevent people of questionable morals or insufficient qualifications from running for secular office. The final election ballot will be announced on April 26-27, and campaigning will officially begin on April 28.
Ahmadinejad, who is mostly known by the Western public for his anti-Semitic statements and actions, made a surprise comeback into politics last year.
Ayatollah Ali Khamenei warned him in September against taking part in the election, so instead he has been supporting his former deputy, Hamid Baghaei, who announced his presidential ambitions in February, reported Al Monitor.
"I didn't tell him don't run, I said it's not in your own or the country's best interests to run," Khamenei said at that time, according to Fars news agency.
Despite that, Ahmadinejad spent the following months harshly criticizing Rouhani for policy failures and alleged dictatorial trends, as well as giving advice to US President Donald Trump. He also started a Twitter account and encouraged English-speakers to follow him, visited the southwestern province of Khuzestan, which is suffering from sand storms and pollution, and otherwise drew public attention.
While the Tuesday registration of his candidacy apparently comes in defiance of Khamenei, Iran-watchers believe that Ahmadinejad has a better chance in the election than Baghaei, who has been dogged by corruption accusations and is seen to lack his former chief's charisma.
You can share this story on social media: