'4 years is a long period, but it ends quickly': Iran's ex-president writes letter to Trump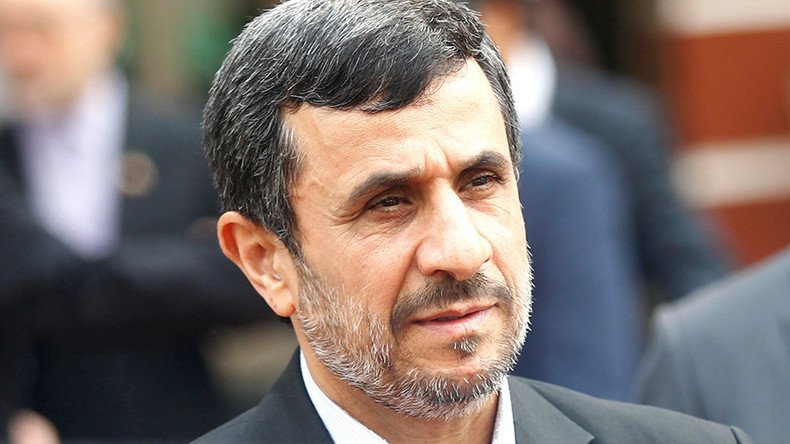 Former Iranian President Mahmoud Ahmadinejad has blasted US policies in a letter to President Trump. He slammed the travel ban, the US "dominance" in the UN, and said that the US brought "insecurity, war, division, killing and displacement of nations."
In the 3,500-word letter, sent by the former leader to the Swiss Embassy in Tehran, Ahmadinejad blasts Trump's travel ban imposed in January on seven Muslim-majority countries including Iran. The ban was later blocked by a judge, with an appeals court refusing to put it back into force.
Ahmadinejad noted that there are 1 million people with Iranian roots living in the US, and added that the US should "value respect toward the diversity of nations and races."
"The developments and the current existence of America today is the result of immigration of a variety of nations to that land," he wrote.
"The presence and constructive effort of the elite and scientists of different nations, including the million-plus population of my Iranian compatriots, has had a major role in the development of the US."
"In other words, the contemporary US belongs to all nations, including the natives of the land. No one may consider themselves the owner and view others as guests or immigrants."
The former Iranian president also slammed US "dominance" in the United Nations, and Washington's interfering with world affairs, saying this only led to "insecurity, war, division, killing and [the] displacement of nations."
At the same time, Ahmadinejad said Trump had "truthfully described the US political system and electoral structure as corrupt."
"The US electoral system has for decades enslaved people's votes to benefit a certain minority; i.e. a group that seemingly rules in the form of two parties, but in fact represents a minority, i.e. the tyrants of global wealth and power."
"Four years is a long period, but it ends quickly," he warned. "The opportunity needs to be valued, and all its moments need to be used in the best way."
It isn't the first letter sent by Ahmadinejad, who also wrote to US Presidents George W. Bush and Barack Obama.
Ahmadinejad was the Iranian president from 2005 to 2013, and in September, Iran's Supreme Leader Ayatollah Ali Khamenei warned the former president that he shouldn't run in the next election.
Khamenei said that Ahmadinejad's candidacy would bring about a "polarized situation" that would turn out to be "harmful for the country."
Ahmadinejad's letter comes as US-Iranian tensions are flaring up: Tehran is staging large-scale military exercises and its officials said that they would only use weapons in self-defense, while the US rolled out new sanctions against Iran and warned it was putting Iran "on notice" over the ballistic missile launch and the war games.
You can share this story on social media: