Protesters clash with police at G7 summit in Italy (VIDEO)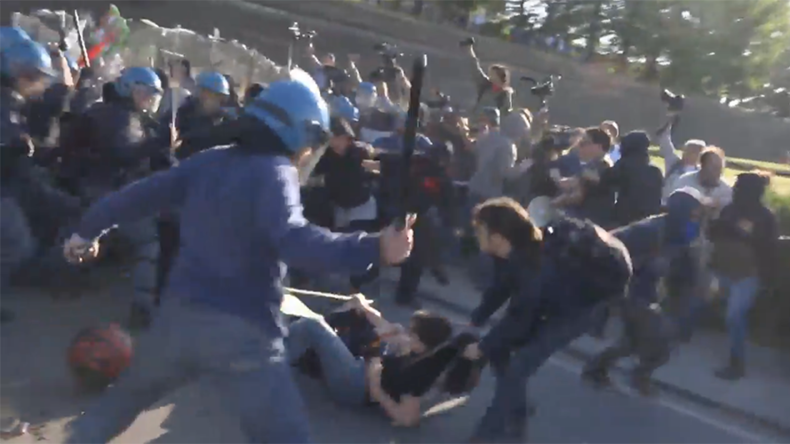 Clashes have broken out between police and protesters at the Group of Seven (G7) summit in Lucca, northern Italy, where top officials are meeting to discuss pressing international issues, including potential anti-Russian sanctions.
Footage from the scene showed riot police armed with batons and riot shields squaring off against anti-capitalist protesters. Demonstrators threw firecrackers and other projectiles at officers while others fought back during the melee.
At least five police officers were injured in the clashes, and there are also reports of injuries among the protesters, according to Il Messaggero.
The fight broke out when protesters tried to break through the police cordon to enter the old town part of the city, Italian ANSA news agency reports.
The demonstrators gathered at around 3pm local time to protest against war, military spending and capitalism.
One of the banners seen at the march read "Tuscany against the G7 - out with the murderers," while some protesters chanted "millions of euros for your military spending, as you cut money for people's houses!"
The protesters included anarchists and members of No Tav, a movement against the development of high-speed railways.
Security is tight in the Tuscan city during the summit, and a bomb scare was triggered early Monday morning when an abandoned suitcase was detonated by the police's bomb squad in the Piazzale Verdi.
One of the key points to be addressed during the two-day summit, which began on Monday, is apparently how to put pressure on Moscow over its Syria policy.
British Foreign Secretary Boris Johnson said "the game has now been changed" when it came to Russia and Syria, in light of the alleged gas attack in Idlib last week and the subsequent US missile strike on a Syrian airbase in Homs province.
According to Johnson, more sanctions on Russia and Syria are possible.
"We will be discussing the possibility of further sanctions certainly on some of the Syrian military figures and indeed on some of the Russian military figures who have been involved in coordinating the Syrian military efforts," he told reporters.
However, the US and other Western countries have so far presented no solid evidence backing up the claims that the Syrian government was behind the alleged chemical assault.
Damascus denied the accusations, noting that its planes may have hit an arms depot with chemical weapons stockpiled by Islamic State (IS, formerly ISIS/ISIL) and Al-Nusra Front militants.
"Returning to pseudo-attempts to resolve the crisis by repeating mantras that [Syrian President] Assad must step down cannot help sort things out," Kremlin spokesman Dmitry Peskov said on Monday.