Armenia's ruling party wins parliamentary polls – official results
Published time: 9 Apr, 2017 17:44
Edited time: 9 Apr, 2017 17:57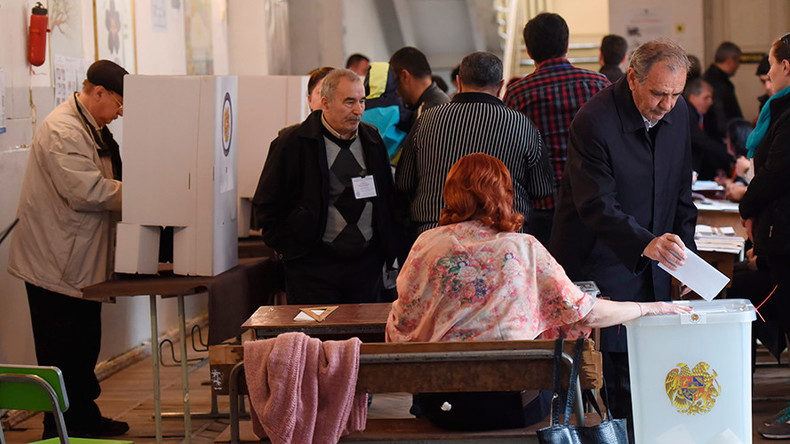 Armenia's ruling Republican Party along with three other parties has made it into parliament in the country's first general elections since adopting a constitutional reform which extends powers of the legislature and the prime minister.
The Republican Party of Armenia, headed by current President Serzh Sargsyan, garnered 770,441 votes and secured the victory, elections commission chairman Tigran Mukuchyan said at a special meeting on Sunday.
The country's leading businessman, Gagik Tsarukyan, and his "Tsarukyan" bloc came in second with almost half as many votes (428,836).
The 'Elk' (Way Out) opposition alliance garnered 122,065 of votes and is third on the list.
The Armenian Revolutionary Federation (also known as Dashnaktsutyun) tails the set of the parties that won seats in the parliament, with 103,048 votes.
The Republican Party has received 55 seats in the parliament, while 31 seats go to the Tsarukyan bloc. Nine seats have been taken by the Elk opposition alliance, and the Armenian Revolutionary Federation will get seven seats, Mukuchyan added.
According to the commission, 1,754,786 people out of 2,585,468 of those eligible to take part in the polls cast their ballots in the elections held April 2.
READ MORE: Armenia elects new parliament in first vote following constitutional reform
Parties needed to overcome a 5 percent benchmark to secure representation in parliament, while the threshold for alliances is 7 percent.
A total of five parties and four blocs with around 1,500 candidates took part in the elections.
Armenia's National Assembly has no limit on the maximum number of seats, with the law only stating that a minimum of 101 deputies is required to form a stable parliamentary majority of 54 percent.
The new one-chamber parliament, elected for five years, is to appoint a ceremonial head of state next year when President Sargsyan's term expires.
READ MORE: Protests in Armenian capital over referendum on constitutional reforms
The referendum on the constitutional reform in Armenia took place in December 2015. Critics of the move said President Serzh Sargsyan was aiming to extend his term in power from five years to seven, which triggered mass protests in the Armenian capital, Yerevan. The reform was eventually approved by 70 percent of citizens.