Armenia's ruling party wins parliamentary polls with almost 50% of votes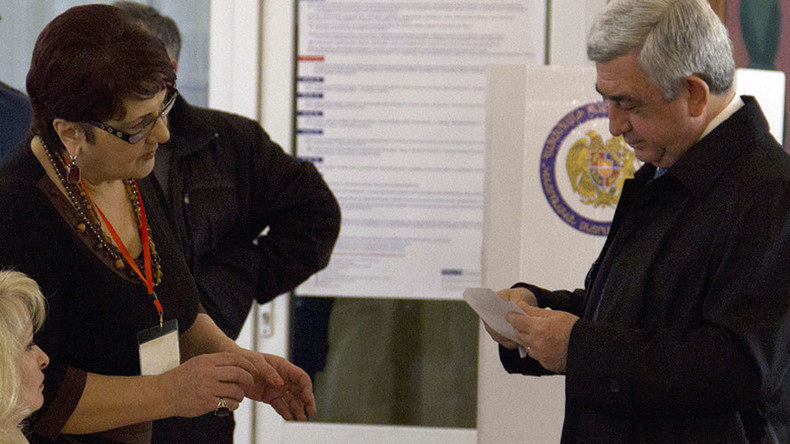 The Republican Party of Armenia, led by current President Serzh Sargsyan, has won the parliamentary election, having secured almost 50 percent of the votes, the Central Election Commission says.
The Republican Party gained 49.12 percent (771,247 votes), commission Chairman Tigran Mukuchyan said, as cited by the local media.
The ruling party's main rival, the 'Tsarukyan' bloc – headed by one of Armenia's leading businessmen, Gagik Tsarukyan –garnered 27.32 percent of the vote.
Just over 7 percent of the votes were given to the 'Elk' (Way Out) opposition alliance.
In its transition to a parliamentary system, Armenia chose its new one-chamber parliament on Sunday. Five parties and four blocs with around 1,500 deputy candidates ran in the election, with the electoral threshold for the parties set at five percent of the votes, and blocs requiring at least seven percent to secure representation in the parliament.
There is no limit for seats in Armenia's National Assembly, as the law only states that a minimum of 101 deputies is required to form a stable parliamentary majority of 54 percent.
The parliament, which is elected for a five-year term, will become the main authority in the republic. After President Sargsyan's term expires next year, the parliament will appoint a ceremonial head of state.