Sweden terrorist attack suspect was rejected refugee, showed IS sympathies – police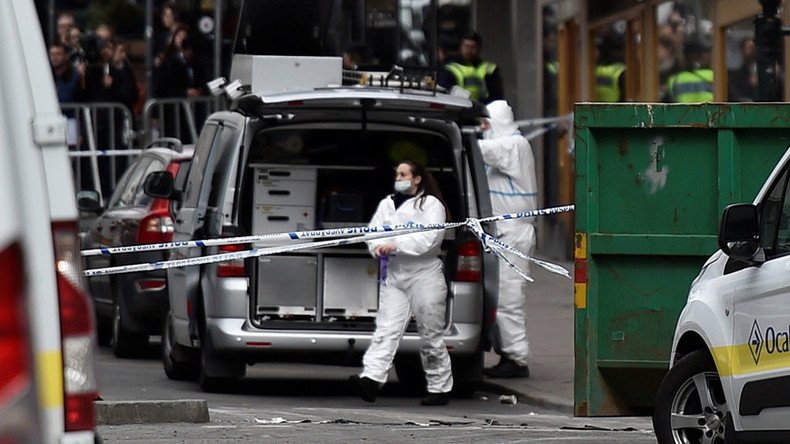 The main suspect in the deadly Stockholm truck rampage is a rejected asylum-seeker and an Islamic State (IS, formerly ISIS/ISIL) sympathizer, according to investigators. A second suspect in the case has also been arrested.
As the investigation of the terrorist attack unfolds, Swedish police revealed new details to the press on Sunday.
The main suspect in the truck rampage, identified as a 39-year-old man from Uzbekistan, turned out to be a rejected asylum-seeker who "applied for a permanent residency permit in 2014," Police Chief Jonas Hysing told reporters.
"The Migration Agency rejected it in June 2016 and also decided that he was to be expelled," Hysing added.
"In December 2016, he was informed by the Migration Agency that he had four weeks to leave the country."
The suspect ignored the notification and his case was transferred to the police to execute the deportation order, but the man "went underground."
Apart from that, the suspect expressed radical ideas and "showed sympathies for extremist organizations, among them Islamic State," Hysing added.
The police made around 500 interviews and gathered a large amount of evidence and numerous eyewitness reports, according to police official Jan Evensson.
All four victims of the attack have been identified.
The investigation led to the arrest of another suspect in the case, Helga Hullmann, a judge at the Stockholm District Court, told Reuters.
"Police have arrested a person and we have appointed a public defender," Reuters quoted the judge as saying.
On Saturday, the investigation team stated that uncovering potential terrorist links and finding possible accomplices of the main suspect was a top priority.
The assault took place in Drottninggatan, one of the city's main pedestrian areas, on Friday, killing four and injuring over a dozen people.
The truck ploughed through crowds of people in the busy shopping street before crashing into a department store and catching fire.
The main suspect, who was allegedly driving the truck, managed to flee the scene, but was detained and subsequently arrested.
You can share this story on social media: