Russian missile frigate returns to Mediterranean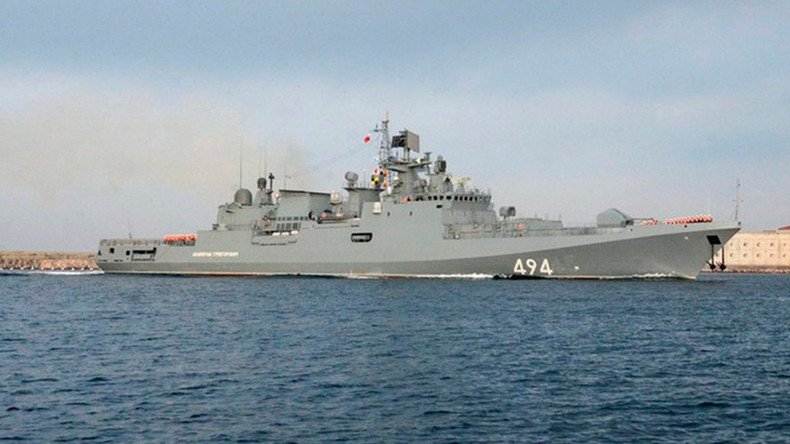 Russia's Admiral Grigorovich cruise missile-armed frigate has joined the Russian fleet in the Mediterranean, following joint Russian-Turkish military exercises.
LIVE UPDATES: US missile strike against Syria
"Today the Black Sea frigate 'Admiral Grigorovich,' under the command of Captain 3rd-Class Anatoly Velichko has joined the Russian Black Sea Fleet in the Mediterranean Sea," the Russian Ministry of Defense said in a statement.
The Admiral Grigorovich took part in Russian-Turkish PASSEX military drills, and was a host vessel during the unofficial visit of the Turkish Naval Forces to Novorossiysk, Russia from April 3 to 5.
The move comes on the heels of the US bombardment of a Syrian air base with 59 Tomahawk missiles on Friday. There is, however, no official indication it is has been done in retaliation to the strike.
The vessel is one of the latest classes frigates at the Russian Navy's disposal. It is armed with Kalibr-NK anti-ship and coastal missiles, Shtil-1 defensive missile system, a 100mm artillery cannon, anti-aircraft equipment, and torpedoes. The Admiral Grigorovich is also capable of carrying a Ka-27 or Ka-31 helicopter and can reach speeds of up to 30 knots (55kph).
In November 2016, the vessel, alongside the Admiral Kuznetsov aircraft carrier, took part in a large-scale operation against Islamic State (IS, formerly ISIS/ISIL) and Al-Nusra Front in Syria, firing missiles at terrorist targets. The strikes killed at least 30 terrorists, including three field commanders.
READ MORE: 'They're terrified that peace was going to break out' – Ron Paul on US Syria strike
You can share this story on social media: