DRONE VIDEO of Syria missile strike aftermath released by Russian MoD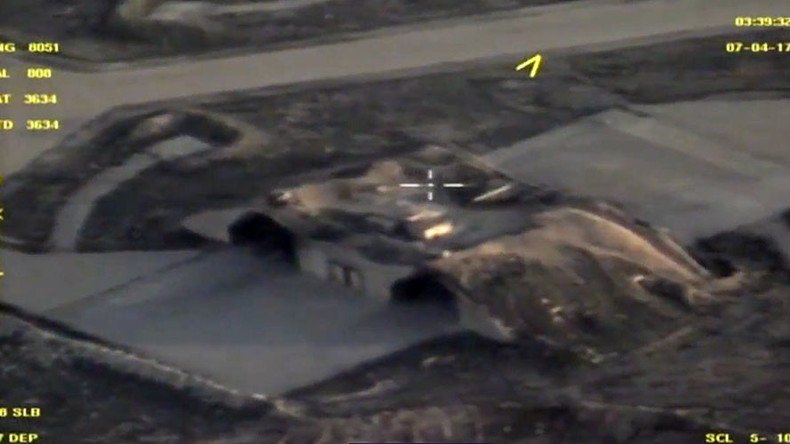 The Russian Ministry of Defense has released drone footage of Shayrat Airbase in Syria, showing the aftermath of a US missile strike which killed at least six people.
At 4:40am local time (00:40 GMT) on Friday, 59 tomahawk missiles were fired at the base from US warships based in the Eastern Mediterranean. The missile strike was ordered by US President Donald Trump.
There have been conflicting reports about the number of casualties. Syrian officials have so far confirmed that six people were killed and several others wounded in the operation.
However, the governor of Homs told RT that at least five people had been killed, three of whom were Syrian soldiers. He also stated that at least seven people had been wounded.
Meanwhile, Syria's SANA news agency has reported nine civilian deaths, including four children.
The Russian Ministry of Defense also said that six MiG-23 fighter jets had been destroyed, but added that much of the runway remained intact, describing the operation's efficiency as "quite poor."
Speaking from his Mar-a-Lago resort, Trump claimed that the airbase, located in Homs governorate, was from where a chemical attack in Idlib earlier this week originated. He confirmed that the "targeted military strike" was launched in retaliation for the chemical attack.
The "retaliation" came before the UN or the OPCW, the chemical weapons watchdog, could investigate the incident. Washington sided with rebel-linked activists, who accused Damascus of killing civilians with toxic gas.
READ MORE: VIDEO of US warships launching Tomahawks against Syrian airbase
The American missile attack has been condemned by Russia and Iran, and the Russian military has supported the Syrian government's version of the events in Idlib, saying that Damascus attacked an arms depot where chemical weapons had been stockpiled by Islamic State (IS, formerly ISIS/ISIL) and Al-Nusra Front militants.
WATCH MORE:
You can share this story on social media: