Dutch coloring book with Hitler's picture pulled from shelves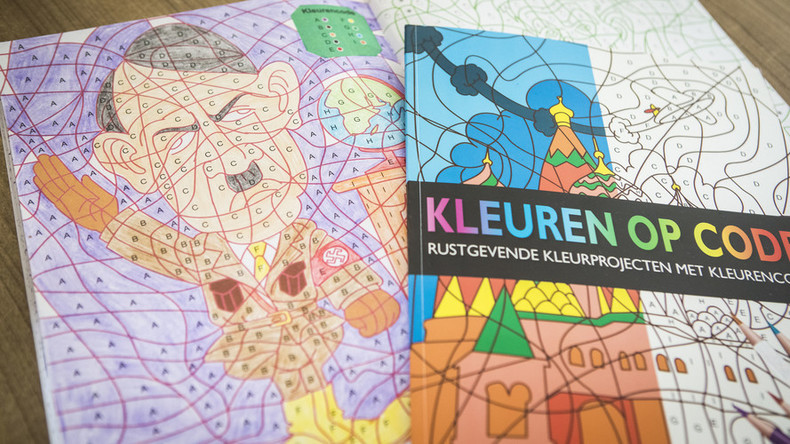 A Dutch drugstore chain was forced to apologize after shocked parents discovered an illustration of Adolf Hitler in a coloring book they had purchased for their kids. The shop has since pulled it from its shelves.
At first glance, the color-by-number book looked much like any other you might find in the children's section of Kruidvat, a chain of Dutch drugstores.
However, one page included a picture that parents weren't expecting to see their children coloring in – an illustration of Adolf Hitler giving his famous Sieg Heil salute, with a globe in the background.
Once the picture was filled in according to the color-by-number directions, Hitler could be seen wearing his trademark brown uniform, complete with a swastika armband.
Kruidvat apologized for the coloring book on Wednesday after someone posted a picture of the image on Facebook and several complaints were filed.
READ MORE: Dutch police arrest 100 protesters against St. Nicholas' 'racist' sidekick
"We are very sorry," ANP news agency quoted a Kruidvat spokesman as saying, adding that the company expressed "deep regret" about the "inappropriate" image.
The book, which was made in India, had been in the store for half a day on Monday, during which "several dozen" were sold, a spokesman told Dutch news website NU.nl.
The company wrote on its Facebook page that any of its customers that bought the book can return it to their local store for a refund.
Kruidvat also says it will look into how the picture came to be inside the coloring book in the first place
Meanwhile, the book's publisher, Belgium-based Trifora, has called the incident a "nasty combination of circumstances," adding that the company checks translations for books, but does not check all of the coloring pictures.
"We probably should've, but it did not happen," a Trifora spokesperson said.
"My suspicion is that the man who created the coloring book got a book of famous people out of the closet and selected a pair, which unfortunately included Adolf Hitler. Maybe he did not recognize him," the spokesperson continued.