Dutch police arrest 100 protesters against St. Nicholas' 'racist' sidekick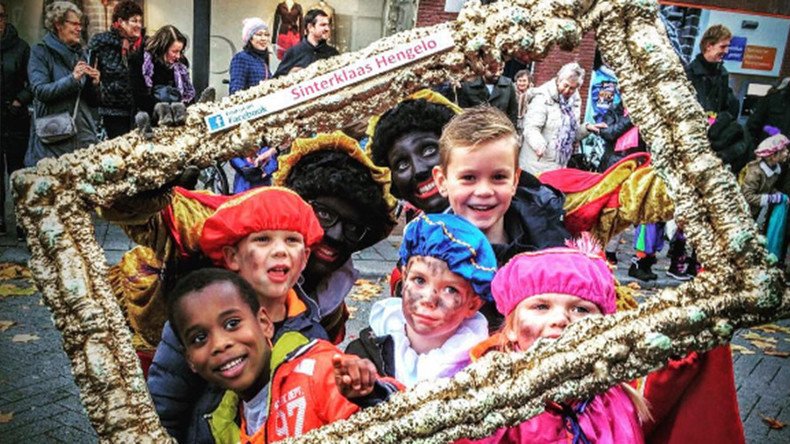 At least 100 people protesting against Black Pete, St Nicolas' black-faced companion in local folklore, have been arrested in the Netherlands, police said. The arrests took place during celebrations marking the start of the Christmas season.
On Saturday, people gathered in the Dutch town of Maasluis, near Rotterdam, to welcome the arrival of Saint Nicholas (or Sinterklaas, the primary mythic inspiration for Santa Claus) and his companions. The event attracted an estimated 20,000 visitors, Dutch newspapers reported.
Among his companions was the controversial Black Pete, usually played by a white person who paints his face black and his lips bright red and dons an Afro-style wig. He is said to be black because he is a Moor from Spain, according to folklore.
People demonstrating against Black Pete gathered in the city and marched towards the Christmas celebration.
"We arrested about 100 people who were demonstrating in Rotterdam, where the protests were banned for the day," local police spokeswoman Lillian van Duijvenbode told AFP.
She added that police asked the protesters "to stop their demonstration at three different places in town, but they refused."
Dutch Volkskrant reported that about 180 protesters of Black Pete were arrested, citing activists. The activists were soon released, the paper added.
A debate over this issue has been gaining traction in the Netherlands. Many have argued that the traditional Christmas figure, known as Saint Nicholas' sidekick, is a colonial racist stereotype.
Opponents of Black Pete from the group Kick Out Black Peter wrote an open letter, saying that they have the fundamental right to demonstrate. The protesters oppose the character's "racist nature."
Supporters of Black Pete argue that the figure is part of their cultural heritage, making him an integral part of Christmas celebrations. They have their own explanation for why his face is painted black: Black Pete just came out of the chimney after delivering gifts, and his face is covered with soot.
You can share this story on social media: