Burglar escapes Greek police by hiding in closet for 14hrs
Published time: 6 Apr, 2017 07:08
Edited time: 7 Apr, 2017 09:49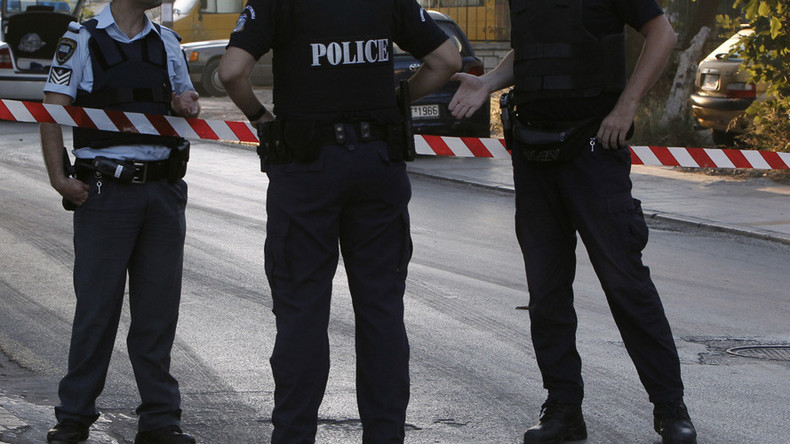 A member of a notorious ex-Soviet robber gang was able to escape the scene of a botched heist in Athens by hiding in a closet and waiting for the police to leave. He was later sniffed out by unsuspecting residents, but still managed to escape.
According to Greek media reports, four armed robbers entered the 8th floor flat in the seaside suburb of Palaio Faliro on Monday morning and tied up the 64-year-old owner and her housekeeper, before proceeding to ransack the property for jewelry. However, the owner's son, who lives in the apartment upstairs, spotted the intrusion on a CCTV system installed outside his mother's house and called the police.
Though 20 officers surrounded the apartment block, the jewel thieves refused to give themselves up and fled across the adjacent balconies. Two of them, a Russian and an Armenian, were arrested, and a third, a Moldovan citizen, misjudged a leap between balconies and plunged to his death.
The victims immediately told the investigators that there had been four, not three, intruders, and the officers then spent hours taking dozens of fingerprints in an attempt to determine the fourth burglar's identity. They got no closer to finding him, however, and left.
The same evening, some 14 hours later, the son noticed the smell of human feces coming from a closet inside his mother's flat. As he opened the door, a masked man burst out brandishing a gun and ran out of the apartment and down the stairs. Remarkably, though the police had taken fingerprints from the handles of the wardrobe, they had never bothered to open its doors.
Another large police patrol then arrived with sniffer dogs, which were given the "sample" to study. The culprit appeared to be long gone, however, and the manhunt was called off. The evidence left behind by the burglar is currently undergoing forensic testing, but no details have been released.
The case has attracted intense media scrutiny in Greece, as at least three of the burglars were career criminals that had been released under a controversial prison decongestion law, which was passed last year. The legislation, which was introduced to modernize prisons, alleviate long-term prison overcrowding, and save money under Greece's ongoing austerity measures, allows even the most serious wrongdoers to walk free after serving just a fraction of their terms.
All three of the identified criminals had long rap sheets that included robberies and murder. Two of them had received seventeen-year prison sentences as recently as 2011, with one committing over 30 robberies.
Answering questions on Monday, Justice Minister Stavros Kontonis said the law would stay in place, but certain categories of criminals may become ineligible for early release.