Mexican newspaper closes after 27 years over lack of journalist safety
Published time: 3 Apr, 2017 10:27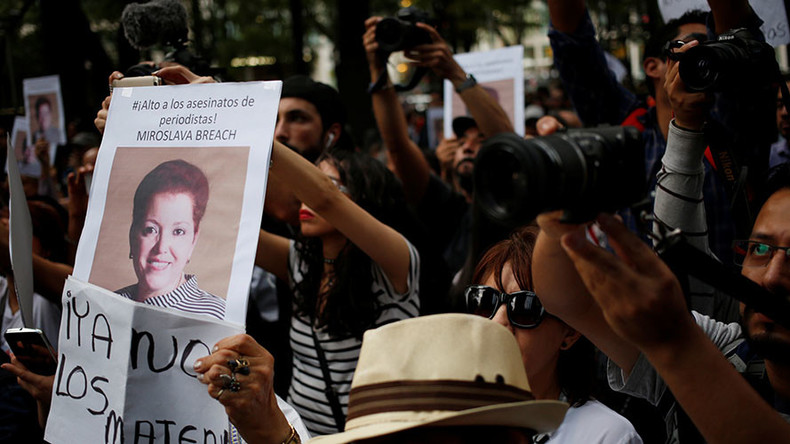 A regional newspaper in northern Mexico has announced it will shut down for security and economic reasons, shortly after one of its journalists was gunned down. The editor said he was not willing to have people pay for reporting with their lives.
The Norte de Ciudad Juarez newspaper announced that its Sunday issue would be its last, after more than 27 years in print. Editor Oscar Cantu Murguia informed readers of his decision in an editorial titled "Adios!", published on the front page and on Norte's website.
"Everything in life has a beginning and an end, and a price to pay, and if the price is life, I am not prepared for any more of my collaborators to pay it, nor am I prepared to pay it either," he wrote.
Cantu cited the death of journalist Miroslava Breach Velducea last month as the tipping point for the newspaper. She was shot dead in the city of Chihuahua, which is located in the eponymous state on the US border. Juarez is the largest city of the state.
The journalist was shot eight times in her car by unknown gunmen, who left a note saying: "For being a loud-mouth." One of her children was in the vehicle at the time, but was not hurt. Breach worked for the national newspaper La Jornada and collaborated with Norte.
Announcing the closure of the paper, Cantu said there were "neither the guarantees nor the security to exercise critical, counterbalanced journalism" in the current environment. He also cited financial concerns as a factor, without going into details.
Norte was one of five regional newspapers in Juarez, a city with a population of 1.3 million. Its print run was 30,000 copies from Monday to Thursday and 35,000 from Friday to Sunday, according to the Guardian. Norte told the British newspaper that its website would continue to operate for some time.
Breach was one of three journalists killed in Mexico in March. Two others survived attacks last month, with one seriously injured.
According to the Committee to Protect Journalists, a New York-based group, 38 journalists have been killed in Mexico since 1992 with motives confirmed as related to their profession. Some 50 others were killed over the same period for reasons not clearly established.