2 volcanos spew ash in Russia's quake-rattled Kamchatka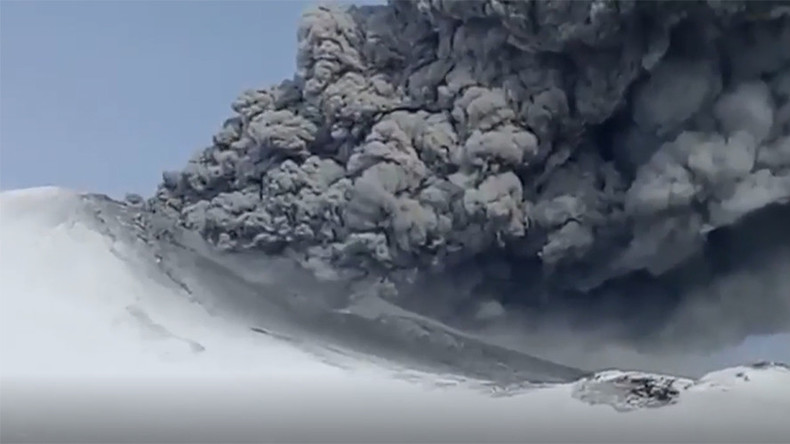 Two of Kamchatka's volcanos – Kambalny and Kluchevskoy – have spewed ash thousands of meters into the air, as eruptions and seismic activity intensified in Russia's far eastern region last week. The ash cloud spread some 100 km into the Pacific.
"According to the satellite data of the Kamchatka Volcanic Eruption Response Team (KVERT) on Monday morning, ash release was recorded on the Kambalny volcano. The height of the ash release was up to 7 thousand meters above sea level," the local Emergency Ministry branch said in a statement, adding that no civilians are at risk.
The 2,156-meters-high Kambalny volcano in the southern part of the Kamchatka Peninsula is the southernmost active volcano in the region. The Kambalny volcano which unexpectedly started spewing ash several days ago after waking from a 250 year period of inactivity is being closely monitored.
Monday's eruption blew ash eastwards some 100 km in the direction of the Pacific Ocean. The Ministry noted that the path of the ash will unlikely affect air traffic in the area. However, authorities issued a code 'orange' volcano aviation alert.
Kamchatka was also rattled by another 4.5 tremor on Monday, following a powerful 6.6 earthquake and aftershocks last week that were felt by residents on the Russian peninsula.
READ MORE: 'Pure surprise': Scientists marvel as Kamchatka volcano erupts for first time in 250 years (VIDEO)
Less than 24 hours before the Kambalny eruption, the 4,750-meter Kluchevskoy volcano, which has also been active over the past week, went on to blast ash some 6,000 meters into the air.
The highest active volcano of Eurasia on Sunday laid an ash track in a Northwestern direction, covering 283 km over uninhabited areas of the Russian Far East. The eruption has not affected air traffic in the area the ministry noted.
It is Kluchevskoy's third eruption in recent days after the volcano became extremely active over the week. On March 29, the volcano spewed ash 7,500 m into the air. A day later, a repeated eruption caused the ash to rise seven kilometers over the ocean's floor.
READ MORE: 6.6 quake rocks Russia's far eastern Kamchatka Region
Both of the volcanos are situated along the Kuril-Kamchatka Arc which extends some 2,100 km from Hokkaido, Japan along the Kuril Islands and the Pacific coast of the Kamchatka Peninsula. The arc sits in the region where the Pacific plate sub-ducts lies beneath the Okhotsk mircoplate. According to the USGS, this "subduction" is responsible for the generation of volcanoes along the entire Arc. The Kuril-Kamchatka Arc is one of the most seismically active regions in the world.