6.6 quake rocks Russia's far eastern Kamchatka Region
Published time: 29 Mar, 2017 04:35
Edited time: 29 Mar, 2017 09:16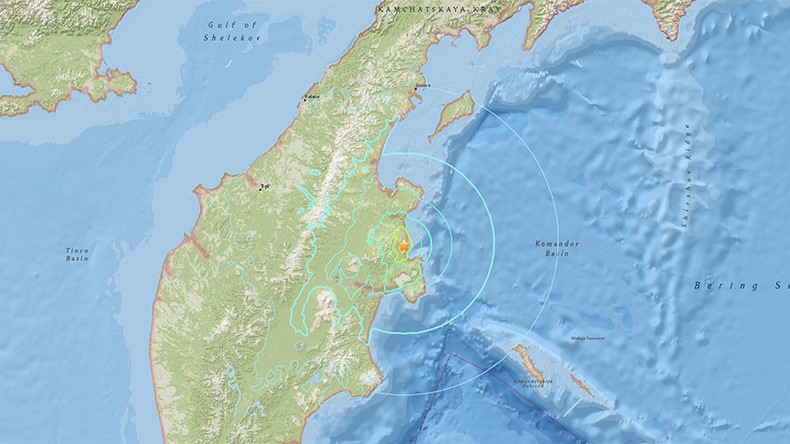 A powerful 6.6-magnitude earthquake rocked Russia's far eastern Kamchatka peninsula, some 80 kilometers north east of Ust-Kamchatsk.
The quake occurred in the Bering Sea, just off the eastern coast of Kamchatka on Wednesday afternoon (4:09am GMT), Kamchatka's branch of the Geophysical Service of the Russian Academy of Sciences told Interfax.
"Residents of the Klyuchi and Kozyrevsk of the Ust-Kamatsky villages experienced this earthquake with a five points magnitude," the representative of the Russian Academy of Sciences said.
The Sakhalin Tsunami Center has warned the earthquake can possibly trigger local tsunami waves of up to 1.5 meters, TASS reports, adding that waves could reach North-Kurilsk island within two hours.
"We declared a tsunami threat based on seismic data," a spokesman from the Petropavlovsk Tsunami center told Sputnik, noting that the Ust-Kamchatsky and Nikolskoye villages in the Aleut region are located in the immediate threat zone. However, Russia's Emergencies Ministry said there was no tsunami threat.
While there is no major threat to the Sakhalin coast line, experts from the center are monitoring the situation. Meanwhile, the Pacific Tsunami Warning Center has said there's no tsunami threat to American Samoa from this earthquake.
The quake was also recorded by the US Geological Survey, which initially reported it as 7.0 magnitude but later revised it to 6.6. There is no immediate word of any casualties or destruction.
The earthquake happened in the vicinity of the Kambalny volcano which unexpectedly started spewing ash several days ago after waking from a 250 year period of inactivity. The area around the volcano in Kamchatka has been put on alert. The volcano still remains active as the ash rose to an altitude of over 7,000 meters above sea level.
The Kamchatka Volcanic Eruption Response Team (KVERT) of the Russian Academy of Sciences Institute of Volcanology and Seismology had already notified air traffic controllers of potential dangers the volcano could cause to nearby aircraft.
The quake struck along the Kuril-Kamchatka Arc which extends some 2,100 km from Hokkaido, Japan along the Kuril Islands and the Pacific coast of the Kamchatka Peninsula. The arc sits in the region where the Pacific plate subducts lies beneath the Okhotsk mircoplate.
According to the USGS, this "subduction" is responsible for the generation of volcanoes along the entire Arc. The Kuril-Kamchatka Arc is one of the most seismically active regions in the world.