'Guardian of peace' Erdogan urges Kurds to expand his powers in referendum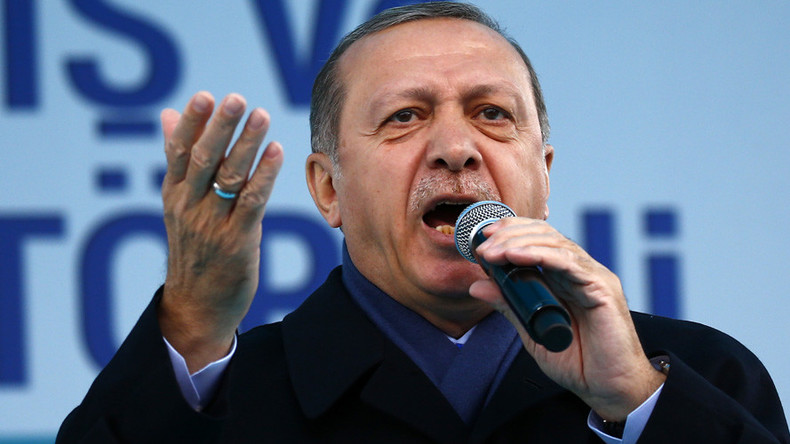 The Turkish President has called himself a "guardian of peace" while urging Kurds to vote 'yes' in the upcoming constitutional reform referendum. He also encouraged Kurds to rise up against the PKK.
"We are the guardian of peace, we are the guardian of freedoms," Recep Erdogan said on Saturday, speaking to a crowd in Diyarbakır province in southeastern Turkey where the government has been actively cracking down on PKK fighters since July 2015.
Read more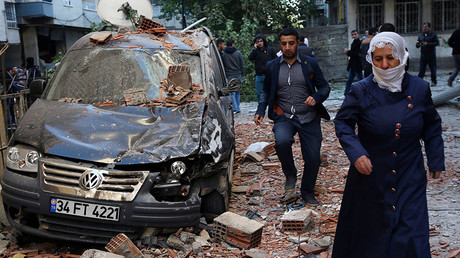 The Turkish leader ruled out peace talks with the Kurdistan Workers Party (PKK), considered terrorists by Ankara, and urged Kurds to lay down their arms. He said as long as the PKK continues its armed struggle, there will be no peace.
"We have one condition; no one will be armed, [and] no one will attempt to divide this country and partition this nation," said Erdogan.
"Those PKK supporters say 'peace, peace, peace'. Will there be a peace with fine words? Will there be a peace with those roaming with guns in their hand?" the Turkish leader asked the crowd.
According to the UN Human Rights Office (OHCHR), over 2,000 people have reportedly been killed during Ankara's military operations in South-East Turkey. That number includes around 1,200 civilians. Yet despite the mounting death toll, Erdogan appears committed to continuing the crackdown.
"We are determined to save our country and our Kurdish brothers from the network of these hired killers [PKK terrorists]," Erdogan said, according to Anadolu.
Ankara's military operation has been rather indiscriminate and often targeted civilian neighborhoods uprooting entire communities.
Read more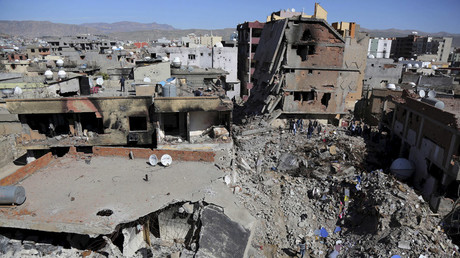 Allegations of "massive destruction, killings and numerous other serious human rights violations" during the government security operations affected "more than 30 towns and neighborhoods and displaced between 335,000 and half a million people, mostly of Kurdish origin," the latest OHCHR report said.
And yet, despite the military campaign against the PKK, Erdogan turned to the mainly Kurdish crowd to urge them to vote 'yes' in the referendum later this month which seeks to amend the constitution and grant greater powers to the President.
Speaking at the rally, Erdogan told the crowd that it is the people who will determine Turkish future by voting 'Yes' on the proposed changes. "In this way, the era of those who want to turn ballot boxes into bullets boxes will be terminated," Erdogan said.
The plebiscite on April 16 will offer Turks a chance to decide on 18 proposed amendments to the constitution. The reforms include the introduction of an executive presidency that would replace the existing parliamentary system of government.
If the ballot passes, the Office of the Prime Minister will be abolished and changes to the Supreme Board of Judges and Prosecutors will transfer more power to president's office.