'This is a crackdown on civilian population, not PKK': Kurdish politician on Ankara's south-east op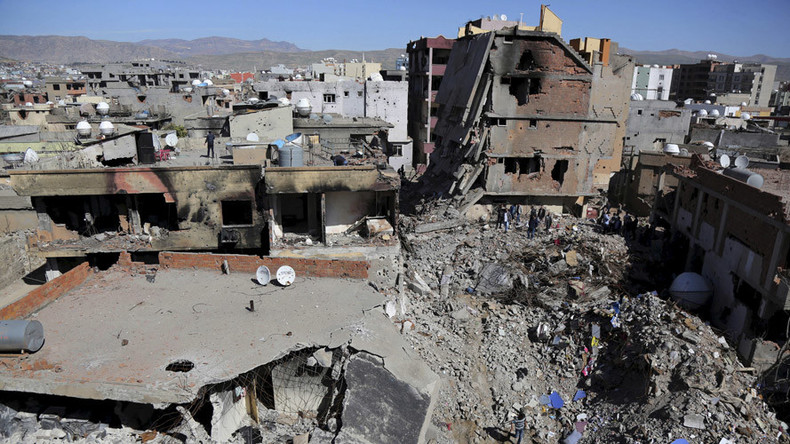 Ankara has not spared civilians in conducting its anti-PKK operation, Ertugrul Kurkcu, Honorary President of the Peoples' Democratic Party (HDP), told RT. He claims over 650 civilians have been killed in the fight – including 97 children and 94 women.
Turkey launched its military operation against its mostly Kurdish southeastern regions in July of 2015 after a number of terror attacks for which the Kurdistan Workers' Party (PKK) was allegedly responsible. In December, the Turkish authorities declared a 24-hour curfew in several Kurdish towns in order "to prevent civilian casualties."
Turkish government claims it targeted only "PKK terrorists," saying it killed more than 360 Kurdish fighters, according to Daily Sabah. Amnesty International accuses Turkey of killing at least 160 civilians.
RT:Turkey says it's attacking only Kurdish militants, is that the case and does that give them the right to continue this operation?
Ertugrul Kurkcu: This is a crackdown not on the PKK, but on the civilian population and Kurds who have been supporting our party, who have been supporting Kurds' rights. And they were targeted during this crackdown. The government's figures are incorrect... According to our figures, until this day, 652 civilians have lost their lives during the curfew in the cities of Cizre, Silopi, Sirnak and Nusaybin. And of these, 97 are children and 94 are women.
Let's assume that all those remaining are – as the government says – the PKK fighters. So how about those children and how about those women? Have you ever seen children fighters? Have you ever seen women fighters who are 85 years old, who are 60 years old? That is not acceptable.
RT:Turkey denies that civilians were targeted despite numerous reports of civilian deaths, what's the reality?
EK: Even if they are targeting the PKK fighters, anyway there should be laws and regulations that the Turkish government should abide by. There are laws of war, there are domestic war laws, there is the constitution. And the curfews rely on no Turkish regulation and law. These curfews are lawless.
According to Turkish law, you can declare curfews in during emergency case and martial law. And neither martial law, nor emergency case has been declared by Turkey. The governors have arbitrarily declared around-the-clock curfews…This is an attack against the society, against the humanity of those people living in these areas... They have been targeted as terrorists without any proof.
The statements, views and opinions expressed in this column are solely those of the author and do not necessarily represent those of RT.