Paris bans sexist, discriminatory & homophobic ads on billboards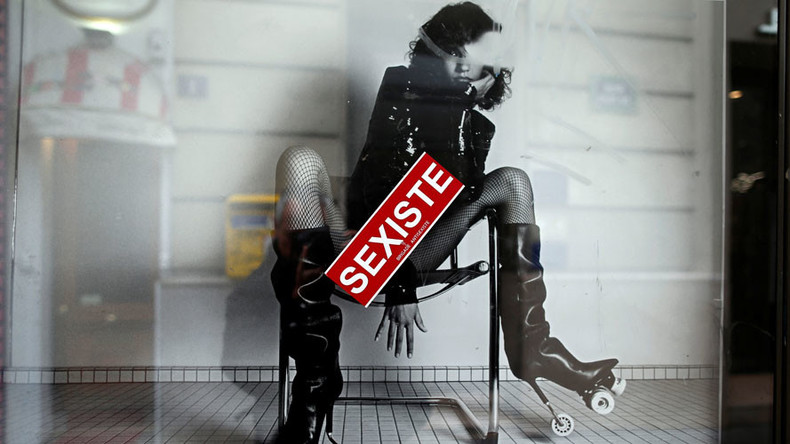 Paris has banned all sexist, discriminatory or homophobic advertisements from its billboards. The ruling includes any images deemed to defame an ethnicity, nationality, religion, sex or age.
The ban proposed by the Department for Equality between Women and Men and the Fight Against Discrimination was announced by Paris City Council on Tuesday.
The city banned all advertisements showing "any form of discrimination on grounds of ethnic origin, national origin, religion, sex or age that undermines human dignity," the City of Paris said in a statement.
From now on, no ads showing "sexist stereotypes, lesbophobes [sic] and/or homophobes, as well as degrading, depreciating, dehumanizing and vexatious representations of women and men and their relationship" will be shown in the capital.
"Along with cities like London and Geneva, that already have similar controls in place, Paris is leading the way … in preventing the dissemination, promotion and glorification of degrading images for certain categories of citizens," Paris Mayor Anne Hidalgo said in a statement.
The ban will be enforced by JCDecaux, a company which manages advertising systems and billboards.
Earlier in March French fashion house Yves Saint Laurent came under fire for a 'porno chic' ad campaign which includes a model in fishnet tights spreading her legs for the camera.
READ MORE: 'Porno chic': Yves Saint Laurent ad campaign slammed for 'ticking all sexist boxes'
France's advertising authority said the brand "uncontestably breached" its standards by launching the campaign, which also features a model in a leotard and roller skate stilettos bending over a stool.
"I am not sure that [Yves Saint Laurent's] female clients would like to be associated with these images," the regulator's director Stephane Martin told AFP.
France's leading women's rights group, Osez le feminisme! (Dare to be Feminist), called for the campaign to be pulled, branding it "misogynistic."
"It ticks all the sexist boxes. The women are objectified, hypersexualized and put in submissive positions," the group's spokeswoman, Raphaelle Remy-Leleu, said, adding that the subtexts of the images are "extremely violent."
You can share this story on social media: