'Porno chic': Yves Saint Laurent ad campaign slammed for 'ticking all sexist boxes'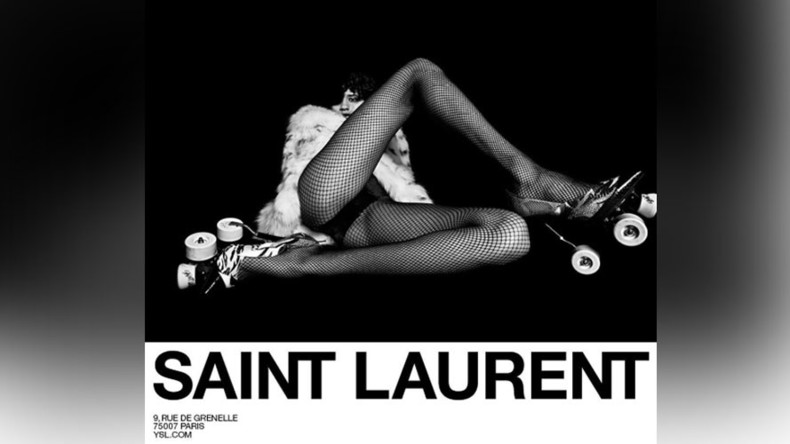 French fashion house Yves Saint Laurent has come under fire for a 'porno chic' ad campaign which includes a model in fishnet tights opening her legs for the camera. The country's leading women's group has called for the campaign to be pulled.
France's advertising authority says the brand "uncontestably breached" its rules by launching the campaign, which also features a model in a leotard and roller skate stilettos bending over a stool.
The regulator's director, Stephane Martin, spoke to AFP about the complaints the authority has received, noting that most were from people who saw the images as an "incitement to rape."
"I am not sure that [Yves Saint Laurent's] female clients would like to be associated with these images," he said.
"We had a similar type of porno chic [in fashion advertising] a decade ago, and here we have it coming back again which isn't acceptable," Martin added.
He went on to say there is a possibility that the fashion house's young new designer, Anthony Vaccarello, had unintentionally gone too far.
"We have a rather young designer known for his rather 'specific' looks," Martin said, adding that it is possible that "in this rather closed world, with its specific codes, that they [Yves Saint Laurent] did not realize" the effect the adverts would have.
The authority bans all "degrading and humiliating representations of people," and has the power to demand that advertisers withdraw or change their campaigns.
Martin said it will decide on how to proceed after meeting with the label on Friday.
Meanwhile, France's leading women's group, Osez le feminisme ('Dare to be Feminist'), has called for the campaign to be pulled, branding it "misogynistic."
The group's spokeswoman, Raphaelle Remy-Leleu, said the subtexts of the images are "extremely violent."
"It ticks all the sexist boxes. The women are objectified, hypersexualized and put in submissive positions," she said.

"How do they think they will sell anything today [to women] with that?" Remy-Leleu continued, considering the possibility that the scandal was intentional "so we would talk about them."
Others also took to social media to express their anger at the campaign, with one person tweeting that "women are not objects."
Another showed a side-by-side comparison of the current campaign next to one from 1967, stating that today's theme is "anorexia, submission, and humiliation."
"Is this the image you want for women in 2017?" another asked, urging the fashion house to end the campaign "immediately."
Another sarcastically said "what a way to celebrate women's day," referring to International Women's Day, which will take place on Wednesday.
It's not the first time that Yves Saint Laurent has come under fire for its advertising. Osez le feminisme previously raised complaints about an ad which used a "very young hypersexualized woman."
Two years ago, Britain's advertising watchdog banned an ad by the fashion house which showed an overly thin model whose ribcage was showing.
Founded in 1961, Yves Saint Laurent is considered to be one of the world's most prominent fashion houses, selling merchandise ranging from clothing to jewelry and shoes.