UK watchdog sounds alarm over doctored papers & security breaches at French nuclear parts supplier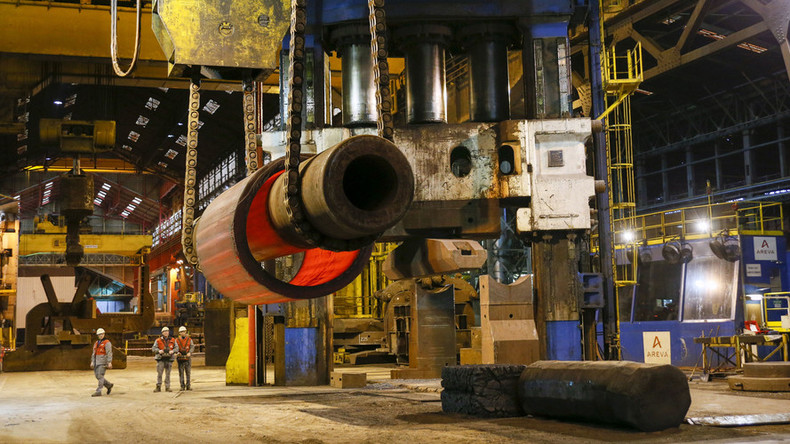 Britain's Office for Nuclear Regulation (ONR) has questioned the adequacy of a French nuclear forge which had already supplied parts for UK nuclear sites. It follows revelations of doctored paperwork and security breaches by the French producer.
The ONR report, obtained under a Freedom of Information request and seen by Reuters, gives details on the December 16 visit by an international monitoring team to a French Creusot forge, operated by the country's state-owned nuclear supplier Areva.
In the report, the UK watchdog warned that safety procedures at Creusot were far below the required standards for a key nuclear equipment supplier. That, they said, could lead to severe consequences for EDF's [the largest energy company in France] Hinkley Point nuclear project currently under construction in southwest Britain, which is set to receive forgings from Creusot.
"ONR should consider the adequacy of EDF's... oversight and assurance arrangements for Areva as a key supplier to Hinkley Point, given the performance shortfalls at Creusot Forge and the associated risks to [nuclear] components manufacture," the regulator said, as cited by Reuters.
Among the breaches was the continued use of correction fluid on documents at the foundry, despite an earlier ban.
The ONR report also inquired into why internal inspections and audits carried out in past decades at Creusor Forge had not discovered and dealt with any of the falsification activities.
Following the December findings, two EDF nuclear reactors were stopped for months, utilities worldwide started reviewing Areva-made parts, and Paris launched a probe into the suspected falsification of documents.
The inspection of the troubled facility was carried out last year by an international team from France, Canada, the US, China, Finland, and Britain.
ONR said that quality control significantly improved "on the shop floor" of Creusot, and most of the top management had been replaced.
The UK watchdog noted, however, that the international inspectors "were not confident that the improvement programmes and associated remedial actions... were sufficiently resourced, prioritised and integrated" to achieve sustained improvements.
On Friday, ONR said that more check-ups are expected to assure that the components for nuclear reactors are of high quality. Before the end of 2017, a regulatory review will be conducted by the UK watchdog to check the progress of the company which owns Areva, EDF.
EDF confirmed that the requirements will be observed. "Steel forgings for Hinkley Point C will be manufactured to the most stringent nuclear standards which are reviewed and assessed by the independent UK regulator, the Office for Nuclear Regulation," a spokesman for EDF Energy in the UK told Reuters.
Also, its own "inspection and quality assurance program" will be used by EDF, to give the "required confidence that the components manufactured by Areva for Hinkley Point C meet those exacting standards," the spokesman noted.