Hamas blames Israel for senior member assassination, threatens 'to act'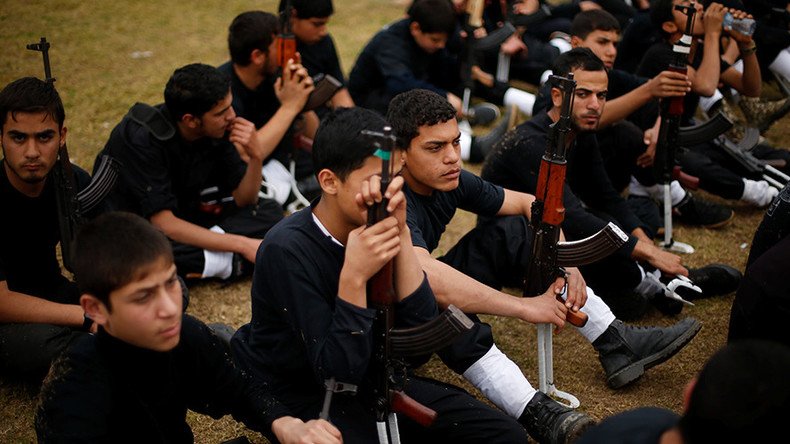 Hamas has vowed retaliation following the death of a prominent member, who was shot near his home in the Gaza Strip on Friday. He had been serving a life sentence in Israel before being released in a prisoner swap in 2011.
Mazeh Faqha suffered four gunshot wounds to his head and was later pronounced dead in Tell al-Hama neighborhood of the Gaza Strip. It is understood that the perpetrators managed to flee and are now on the run. In the aftermath of the assassination, Gaza police cordoned off the scene and set up checkpoints hunting for suspects.
Iyad al-Bozum, Gaza's Interior Ministry spokesman, said an investigation into the circumstances of his death has been launched, without elaborating on possible affiliations and motives of the attackers.
While the search for the attackers continues, Hamas was quick to point to Israel as the only possible benefactor from the death of the official, accusing the Israeli authorities or its "collaborators" of being behind the assault.
"This assassination does not serve anybody but the [Israeli] occupiers, it is of no interest to the other parties," Khalil al-Haya, Hamas deputy chief in Gaza, said as cited by AFP.
In an official statement, cited by Reuters, the militia threatened Israel and its agents with retribution for "this despicable crime," stating that "Israel knows that the blood of [Hamas] fighters is not spilled in vain and Hamas will know how to act."
Faqha lived in Gaza after his release from an Israeli jail in 2011, which was agreed to between Hamas and the Israeli government as part of a major prisoner exchange. Over 1,000 Palestinian prisoners were set free from Israeli jails in exchange for one Israeli soldier, Gilad Shalit, who was held captive by Hamas for five years after his capture in 2006.
READ MORE: Netanyahu accused of failing to address Hamas tunnel threat ahead of 2014 Gaza war
At the time, Faqha was serving a life sentence for recruiting potential terrorists and arranging attacks on Israel. In particular, he was found guilty of recruiting a suicide bomber to mount an attack in northern Israel in 2002 that claimed the lives of nine people and left over 50 injured.
While Israel officials have not commented on Faqha's murder yet, the way his assassination was carried out bears similarities to the murder of Hamas engineer Mohammed al-Zoari, who was killed last year, a source close to Hamas' military wing told The New Arab.
Al-Zoari, a Tunisian national, was one of the leading scientists involved in developing Hamas' drone program. He was shot dead outside his home in the port city of Sfax on December 15.
Allegations of Israeli involvement in the attack were voiced by Tunisian President Beji Caid Essebsi, who said that "there is a suspicion that Israel was involved" in early January.
You can share this story on social media: