Philippines' Duterte blames past US inactivity for tensions in South China Sea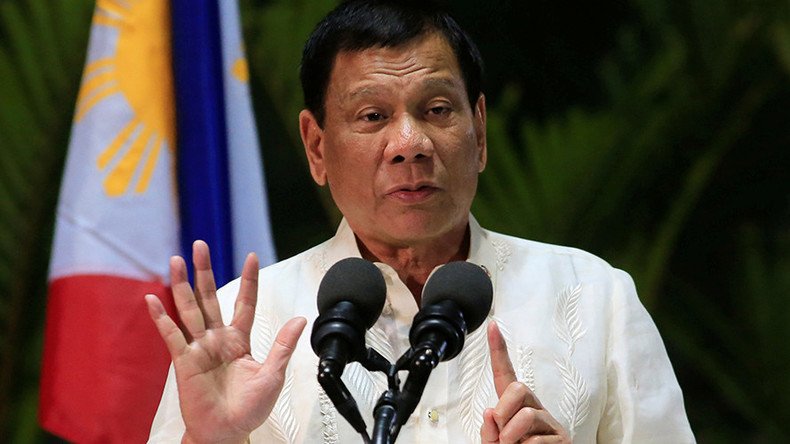 Philippines President Rodrigo Duterte has accused the US former administration of taking no action when China began building artificial islands in the South China Sea, which he said resulted in the current strained situation in the region.
READ MORE: Duterte orders military to tell China that Philippine Sea area 'is ours,' but in a friendly way
"Why did [the US] not reprimand [China]? Why did you not send five aircraft carriers? And you had to wait for the problem to ripen to an international issue involving, this time, so many countries," President Duterte said at a news conference upon arrival from a trip to Myanmar and Thailand at an international airport in Manila, according to Reuters.

"You could have cut the problem in the bud had you taken a decisive action," Duterte said, apparently addressing former US President Barack Obama and his administration.

The Philippines leader stressed that the US was obliged by a treaty to protect his country, but it did nothing when China started appropriating parts of Manila's exclusive economic zone.

"Why in hell, America, the only one who can act there, why did it want my navy to go there? It will be a massacre for my soldiers," Duterte said in an emotional speech.

"Why did you not, the first instance, go to Chinese working there, building structures there?"
Duterte's speech comes amid concerns over China's alleged plans to build several environmental monitoring stations in the South China Sea, including on the Scarborough Shoal, located 124 miles off the Philippines coast.

The Chinese Foreign Ministry has dismissed a statement made by the mayor of Sansha City, Xiao Jie, who said one station will be built on the disputed landmass. The ministry said the report was "mistaken" and "not true."

Duterte also accused the US of taking a provocative stance and forcing the Philippines to speak out against China. He also said the US freedom of navigation patrols in the disputed waters could trigger a conflict.

"You go there in the pretense of challenging them? One single solitary shot, it could lead to an explosion and it could lead to a war and it will be a slaughter."

The US, however, says that it's not acting in a provocative way, is trying to keep in place freedom of navigation and is watching over the waterway.
At the same time, Duterte indicated a significant turn in the Philippines' foreign policy, aiming at restoring trade relations with China.

"I decided to change a little bit our foreign policy. Why is it that we are too far from trade and commerce with China? They said we are Americans. Said who? China," Duterte said.

"I went to China, [and said] I don't like Americans, we're the same. I came to shake your hand and if I can have participation in trade and commerce," he said, adding that there is no point in trying to stop China setting up its installations on manmade islands.

"We cannot stop them, because they are building it with their mind fixed that they own the place. China will go to war," Duterte said.

In conclusion, Duterte mocked the media outlets which drew attention to his election promise to ride a jetski to one of the reefs claimed by China, and to put a Philippines flag there.

"People want me to jetski. These fools believed me," he said.
You can share this story on social media: