Duterte orders military to tell China that Philippine Sea area 'is ours,' but in a friendly way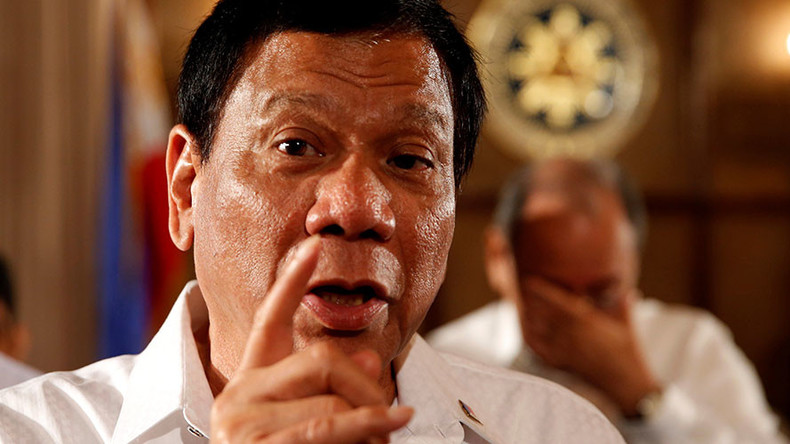 Philippine President Rodrigo Duterte has ordered his military to visibly declare ownership of a large area in the Philippine Sea where China's survey ships were spotted last year – but to do it in a way that would not anger or cause confrontation with Beijing.
"My order to my military, you go there and tell them straight that this is ours, but I say it in friendship," Duterte said during a press conference on Monday when asked about the Chinese vessels spotted at the Benham Rise off the Philippine north east coast.
His country has no option but to be diplomatic because "I cannot match the might of China," the Philippine president explained according to AP.
Earlier, Defense Secretary Delfin Lorenzana said that suspicious movements of Chinese ships was spotted in the Benham Rise between July and December 2016. Benham Rise, which Manila says is rich in biodiversity and fish stocks, was declared part of Philippines' continental shelf by the UN in 2012.
The Defense Secretary said that President Duterte ordered to increase naval patrols in that area and put up unspecified structures in the sea to make it clear "that says this is ours."
"We are concerned, they have no business going there," Lorenzana said on Sunday as cited by Reuters.
The official pointed out that the Chinese vessels were not just passing through but stopped for long periods on several occasions, raising suspicion that they might be carrying out some kind of surveys.
READ MORE: 'Dock here anytime': Duterte visits Russian destroyer, wants Moscow to be ally & protector
The Philippines Embassy in Beijing has filed a diplomatic protest over the issue, with the Chinese Foreign Ministry replying on Friday that the vessels were acting in line "normal freedom of navigation and right of innocent passage."
READ MORE: Japan sending largest warship for biggest show of force since WWII in S. China Sea – report
The dispute may disturb the thaw in relations between Manila and Beijing, which began after Duterte became president last June. Duterte opted to seek business cooperation with China instead of continuing a separate territorial feud west of the Philippines in the South China Sea, through which $5 trillion of goods are shipped annually.
"Let us not fight about ownership or sovereignty at this time, because things are going great for my country," the president reiterated on Monday. "America wants to pick a fight there… Why would I get into a trouble in that area?"