China to intercept 'intruding' aircraft, follow military vessels amid efforts to strengthen navy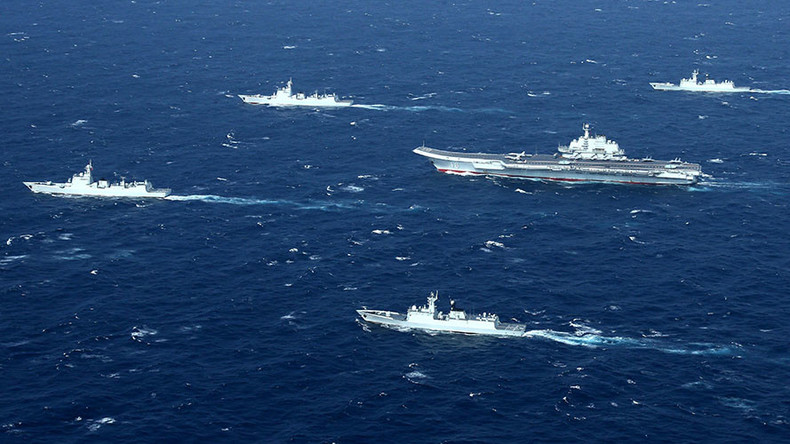 China is building a "first-class navy" which will intercept "intruding aircraft" and follow any military vessels traveling within its controlled areas, an official has stated, adding that sailors should "stay vigilant."
"We will intercept any intruding aircraft and follow every military vessel in areas under our responsibility," Wang Weiming, deputy chief of staff of the Chinese People's Liberation Army Navy, told Xinhua on the sidelines of the annual session of the National People's Congress (NPC).
"Our sailors should stay vigilant and be able to deal with emergencies at all times," he added.
Wang's statements come as China looks to strengthen its navy, expanding its fleet of naval destroyers and frigates and stepping up air and sea patrols.
The senior official noted that the country's second aircraft carrier – a refitted Soviet Union-made carrier – is taking shape, with the hull blocks having been joined.
The carrier will have a displacement of 50,000 tons and will be a base for J-15 fighters and other aircraft, according to a Defense Ministry spokesperson. It is expected to enter service around 2020.
Meanwhile, Li Yanming, another NPC deputy and the political commissar of the navy's armaments department, said a top-notch navy should be equipped with top-notch armaments.
He vowed better quantity, quality, scope and functionality of naval armament manufacturing in 2017.
Despite the strengthening of the navy, NPC deputy and political commissar of the Eastern Theater Command, Wang Huayong, stressed that China's "entire forces are for defense purposes," and that its navy development will contribute to a peaceful and stable world.
"The aircraft carrier is still in training and trial stage. The marines remain weak, and the number and quality of long-distance vessels do not meet expectations," Wang said.
He went on to state that China's navy is not seeking to be a bully or build a military force beyond a level compatible with the country's development, claiming the military still lags behind the nation's current power and status.
"We have never gone to the doorstep of others to show off our military power," he said. "The construction on the South China Sea islands are mostly civilian in nature, a right bestowed by international law."
China's strengthening of its navy comes as US President Donald Trump has vowed to significantly add to his country's military fleet. The leader has also unnerved Beijing when it comes to Taiwan and the South China and East China Seas.
Just three weeks ago, Beijing warned Washington against any actions which would challenge China's "sovereignty and security," following reports that the US is planning naval patrols in the disputed South China Sea.
Beijing lays claim to almost all of the resource-rich waters, despite competing claims from Vietnam the Philippines, Taiwan, Malaysia and Brunei. China has added to regional tensions by building artificial islands in the sea, complete with military installations.
Washington has long criticized Beijing's construction of man-made islands and its build-up of military facilities in the sea, with US Secretary of State Rex Tillerson stating in January that China's access to its artificial islands should be restricted.
Tillerson's comments were met with backlash from the state-sanctioned Global Times newspaper, which wrote that it would take a "large-scale war" to prevent Beijing from having access to the islands, noting that any other approaches would be "foolish."
The newspaper went on to stress that the US "has no absolute power to dominate the South China Sea."
Last year, judges at the arbitration tribunal in The Hague ruled that China's artificial islands are caused irreparable harm to the ecosystem of the South China Sea's Spratly Islands and breached the sovereign rights of the Philippines.
China was quick to declare The Hague's decision "null and void," and soon started building an artificial island on Scarborough Shoal, just northeast of the Spratlys.
You can share this story on social media: