Israeli officer filmed assaulting Palestinian driver, police open probe (VIDEO)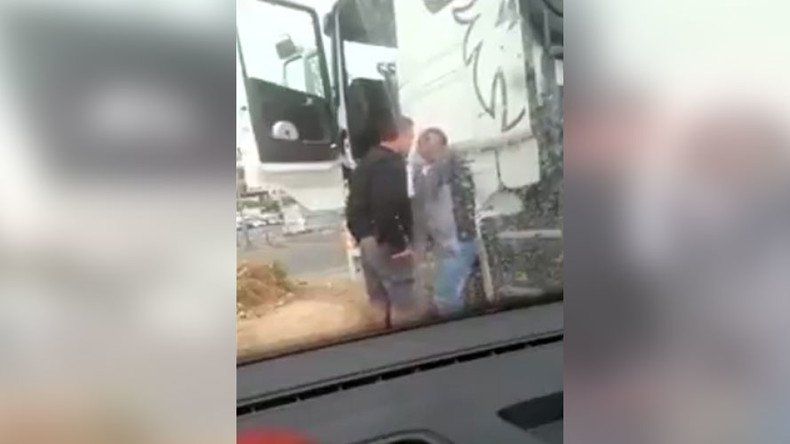 Israeli police have launched an investigation after an officer was filmed assaulting a Palestinian truck driver in East Jerusalem. The police authorities have described the officer's behaviour as "shameful."
Footage published on Thursday shows an Israeli police officer head-butting, kicking and slapping a 50-year-old Palestinian truck driver.
"I got to work this morning in my truck which is by the Interior Ministry in the Wadi Joz neighborhood, as always," said the truck driver, Mazen Shwiki, as quoted by the Jerusalem Post.
He said that the policeman had accused him of hitting his parked car and refused to accept any apologies.
"The policeman started to curse me and used derogatory language, and then he butted my head and started hitting me for no reason. All that, even though I admitted that I hit his car," Shwiki recollected.
Ahmad al-Tawil, who reportedly witnessed the assault, told the Ma'an News website that said he tried to stop the officer, but was also beaten.
The video has been sent to Israeli police, who have opened an investigation into the incident.
"The behavior of the police officer filmed violently attacking a resident of East Jerusalem is extremely severe and shameful," said Public Security Minister Gilad Erdan, the Jerusalem Post quotes. "Behavior like this damages the whole police force and the officer's immediate suspension was appropriate. There is no place for this kind of behavior in the police, and I hope that the police internal investigation unit will use the full extent of the law against this misconduct."
There have been other incidents involving excessive violence by Israeli security forces towards Palestinians in East Jerusalem. Recently a Palestinian teen was shot in the chest by Israeli forces at the Shufat camp in occupied East Jerusalem. The forces accused the teen of throwing stones at military vehicles.
A nine-year-old girl was seriously injured at the Qalandia checkpoint between the West Bank and East Jerusalem, after she was shot in the foot for carrying a bag in a "suspicious manner."
You can share this story on social media: